I jumped at the chance to interview Megan Miranda, as I've heard lots of positive buzz about her best-selling novel
All The Missing Girls
, which
The New York Times Book Review
described as "Hitchockian," and
The Perfect Stranger
.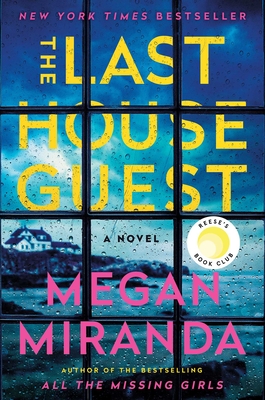 I predict her new book, The Last House Guest, will also land on the best-seller list and have positive buzz.
Her new book is set in Littleport, Maine, which is a town where some, including strong protagonist Avery Greer, live all year round while other wealthy folks, including Sadie Loman and her family, visit only on the summer. Sadie and Avery have a fierce, long friendship.
As the book begins Sadie has been found dead and the police are ruling it a suicide, but Avery can't shake the feeling people in the community, including Sadie's family, blame her for the death.
Scott Butki: How did this story come together?
Megan Miranda: I had the characters and the premise from pretty early on, but their story, and how it could best be told, developed over the course of several drafts. When I started The Last House Guest, I knew I wanted to set it in a town where there would be this contrast of insiders (the characters who live in the town year-round) and outsiders (those who visit each summer). Avery and Sadie grew from this idea. But as I worked through earlier drafts, I realized that Avery embodied both sides of that equation—she is someone who grew up as an insider, but now feels like an outsider to her own town.
The friendship between Avery and Sadie—and all that happened because of it—became the heart of the story. Which then gave rise to the structure: At the start of the story, Avery can't seem to accept or move past Sadie's death a year earlier. And she keeps circling back to that pivotal night with each new discovery, looking for the things she might've missed the first time around.
Scott:  Which comes first for you, the characters or the plot?
Megan: The characters always come first, though they tend to develop alongside the plot. They work in tandem, with plot roadblocks forming character, and character choices informing the story direction. But the characters are always the element I'm most interested in following—both as a reader and a writer. I think this is why I'm not much of an outliner before I start—I need to get to know the characters first, and write my way in to their story.
Scott Butki: Should readers new to you start with this book or one of your earlier ones?
Megan: They can definitely start with this one! Each of the books stands alone, with a new set of characters, and a new setting. They can be read in any order.
Scott: How are you reacting to the popularity of your books?
Writing a book can feel very solitary—but these characters live inside your head for so long, and finishing their story, getting it to where you hope it will be, always means so much. To see it then resonate with others has been such a wonderful experience. I've been so grateful that people who have enjoyed these stories have helped spread the word about them.
Scott: Can you talk about the relationship between Sadie Loman, from a wealthy family that visits a vacation town every summer, and Avery Greer, a townie dealing with the grief after her parents die.
Megan: When Avery and Sadie meet as teens, they each find something in the other that fills a void in their lives. Avery had spent the time before meeting Sadie feeling adrift and alone, unable to escape the way others in town see her. And Sadie has a complicated relationship with her own family, never quite living up to expectations. Both of them are able to become someone else through the other's perspective. But just as with the town itself, their friendship looks different when viewed from the outside versus the inside.
Scott: Why did you decide to begin the book with Sadie's death?
Megan: There were two reasons I wanted to start the book here. The first went to story: Starting with the end-of-season party from the year earlier introduced each character with their alibi—when and how they were accounted for on the night of Sadie's death—which is key to unraveling the mystery that follows.
The second reason went to character: For Avery, this is the pivotal event that shatters her world. And this is the night she keeps coming back to in more detail throughout the book as she gains understanding.
Scott: What do you hope readers will take away from this book?
Megan: One theme I keep coming back to—in All the Missing Girls, The Perfect Stranger, and The Last House Guest—is this focus on identity, tied tightly to experiences in the past. How people are viewed, and how they view themselves. The one common thing I find at the heart of each main character, despite everything that happens throughout their story, is a sense of resiliency.
Scott: What have you figured out for this, your tenth book, you wish you knew when writing your first?
I wish there was something universal I've taken away from the writing process, but the thing I've learned the most is that every single book is different. Sometimes the structure and story come together right away. Sometimes they don't. I guess the one change in my process is that I panic less when a draft doesn't work at first. I've come to accept and appreciate that trial and error is part of my process, and to trust that I'll get there in the end.
Scott: How did you go about researching this book?
Miranda: When I was writing the first draft, I asked my family if anyone wanted to take a trip up to Maine with me. Which is how I ended up spending a summer vacation in a minivan with my parents, my husband, and my 2 kids. We drove up and down the coast, stopping at so many beautiful towns along the way. We also spent several days in Bar Harbor, which is where we used to spend a week each summer when I was growing up. It made me think a lot about perspective, and how that can shift over time. I had last been there as a teenager, and was now visiting with my own children, hiking the same trails, visiting the same places. I wanted Littleport to feel like a character in and of itself, and a place that can have two different perspectives, both as an insider and an outsider.                     
Scott: The last question is my bonus question: What is a question you wish you would get asked in interviews but never are. Here's your chance to ask and answer it.
Miranda:  Why are you drawn to small town settings?
I love the dynamic that a small town provides, where characters know everything about one another—or think they do. For me, a small town feels like a living, breathing character. Something that might shift and twist, just as the story does.