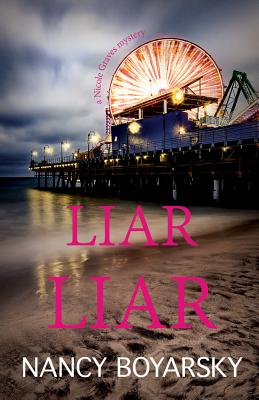 For her third mystery novel featuring protagonist Nicole Graves, Nancy Boyarsky has written an intriguing thriller that turns what could have been a predictable #metoo movement novel on its head.
In Liar Liar, Nicole is tasked with babysitting a witness who has accused a university's star quarterback of rape. While the witness, Mary Ellen Barnes, has come off as squeaky clean in public, Graves quickly sees that things are not as they seem.
Soon Mary Ellen goes missing and Nicole, over the objections of her fiancé, gets increasingly in the middle of the case. And then a key figure in the story dies. What follows are twists and more twists.
Boyarsky coauthored Backroom Politics with her husband, journalist Bill Boyarsky, as well as several textbooks by herself on the justice system as well as writing articles of many publications.
She is currently working on her fourth mystery about Nicole in addition to a memoir about growing up in Oakland called Family Recipes for Gastroenteritis.
Scott: Where did this story come from and how did it develop?
Nancy: The plot of Liar Liar involves a rape trial that becomes a murder trial. The idea came to me long before #Metoo got rolling. I started thinking about it three or four years ago when a close friend of mine, who's a private detective, told me about a rape case at a local college. She'd been hired by the college to interview everyone who had knowledge of the incident and write a report without drawing any conclusions. Normally, her cases are confidential, but someone leaked the report online, and Esquire ran an article about it. It involved two very drunk 19-year-olds, and the fallout from their encounter was pretty interesting. It got me thinking about how difficult it is to determine who's the responsible party in a "she said, he said" situation.
Of course, I had to change all of the circumstances, since I wouldn't have had a murder mystery without a dead body. In the real-life case, the parties seemed to be traumatized but no one died. I also changed the locale, setting the college in Malibu rather than in urban L.A.
Scott: How did you create and develop the protagonist, Nicole Graves, for this series?
Nancy: When I wrote the first book, The Swap, I wanted to create a main character who was smart, likeable, curious and doggedly persistent. I've read too many books featuring detectives who are emotionally damaged; it almost seems a requirement for this type of character. I wanted my heroine to be a normal, reasonably well-adjusted person. As I went through innumerable rewrites of The Swap, Nicole emerged.
Scott: How would you describe her?
Nancy: As I said, she's smart, likeable, and doggedly persistent. She's curious about the people she meets and wants to know everything about them, which is probably one of the traits made her become an investigator. She's also petite and sweetly pretty with dimples. This bothers her. She feels that some people don't take her seriously because of her looks. But sometimes it's an advantage to people have underestimate you.
Most importantly, Nicole is a risk taker, and wants to make sure justice is served. She can't bear standing by and watching when she knows someone has unjustly been accused of a crime or when the guilty party gets away, leaving an innocent person to take the blame. Oh, and she's also a romantic. She's has fallen in and out of love a few times during these stories.
Scott: In what ways are you like her? In what ways are you different from her?
Nancy: Well, I'm certainly not as brave as she is, and I wouldn't call myself a risk taker. On the other hand, I do share her curiosity about people—what makes them tick, their secrets, their hopes and dreams. I share her desire to see justice done. I'm also petite and (while I don't have dimples) have a benign appearance that sometimes makes people underestimate me.
Scott: I bet you thought about the #Metoo movement while writing this book in which a character accuses a well known person of rape. What are some thoughts you have about the movement?
Nancy: I'm a big supporter of #Metoo, and it was a lucky coincidence that Liar Liar was published as this movement was snowballing. I don't know any woman who hasn't been harassed or sexually victimized at some point in her life. I can remember being a teenager walking down the street and getting cat calls from, for example, construction workers. This was embarrassing and upsetting. But so many much worse things happen to women on a daily basis. It's good that women are able to come forward and confront abusers about what they've done. On the other hand, we have to be careful not to get carried away. For example, there was the woman who anonymously denounced the stand-up comic Aziz Ansari for what many would call a bad date. I thought that was going too far.
In Liar Liar, the story the victim tells is not really what happened. She has been sexually victimized and exploited, just not in the way she says. And the man who's wrongly accused isn't completely innocent. But cases like this rarely happen. I believe the vast majority of victims are telling the truth. According to the National Institute of Justice, most rapes, attempted rapes, and other sexual assaults are never reported. Why not? The institute referred to a study that gave a number of reasons: self blame, shame, fear of the perpetrator, fear of not being believed, and lack of trust in the justice system.
Scott: So this is the third in your series — should readers start with the first book or is it okay to start with this one?
Nancy: You don't have to start with the first one at all. Each book stands on its own. If anything happens that refers back to an event in one of the earlier books, I give a brief explanation.
I wrote the first book, The Swap, as a stand-alone; I had no intention of basing a series on Nicole Graves. When it was done, I'd left a lot hanging in the air. By this time, Nicole seemed almost real to me. I started wondering what would happen to her next. As I thought about it, my second book, The Bequest, began to take shape.
Scott: I understand at one point you were the associate editor of Los Angeles Lawyer magazine. Did that help with writing about lawyers in this book?
Nancy: One of things I always had to offer employers was my ability to translate legalize and legislative language into plain, simple terms that the average reader could understand. So, I guess my experience with L.A. Lawyer helped me out there. I did the same kind of work at ARCO, where I was director of communications for political affairs for many years, mostly writing about legislative proposals that affected the oil industry. But my main resource for the workings of the justice system in Liar Liar was my brother-in-law, Jeff Boyarsky, who is a newly retired criminal-defense attorney. I was always asking him questions about what would happen before and during the trials in the book.
Scott: What do you hope readers will take away from this book?
Nancy: I hope they'll be entertained and that the book will take them out of their world for a while. It would also be good if the book could enlighten them a bit about the legal process and what participants in such trials go through.
Scott: How did you research this book?
Nancy: For quick facts, for example how a particular gun would behave in Nicole's hands, I used Google. The internet makes this kind of research very easy. In the dark ages before the web, I was a freelance writer. To get information, I had to make a lot of phone calls, spend time in libraries, become an expert at using The Reader's Guide to Periodical Literature and looking at newspaper microfilms. Yikes! That was a lot of work.
For Nicole's adventures, I have two main experts I rely on—my lawyer brother-in-law and my friend who's a private detective. They answer questions as I go along and read the manuscript when it's done.
Scott: How far out have you planned this series?
Nancy: Not at all. I'm just finishing up Book 4, The Ransom, which is due at my publishers on January 10th and will be released next September. I'm thinking that book 5 should take Nicole to Europe. Maybe London again, which was the setting of The Swap.  I know the city pretty well from our visits there. Or maybe Italy or France. I don't even plan the book I'm working on advance. I just develop it as I go along. While preoccupied with that, it's impossible to think about what will be in the next book.