Ian Rankin's latest novel featuring John Rebus, In a House of Lies, has the now retired inspector drawn into an old missing persons case he was involved in that has turned into one of murder when the body is finally discovered and assigned to his former partner Clarke. The question is, is he trying to help or throw her off since police corruption is connected to officers he worked with. Ian was kind enough to take some questions from us about the book and his main character.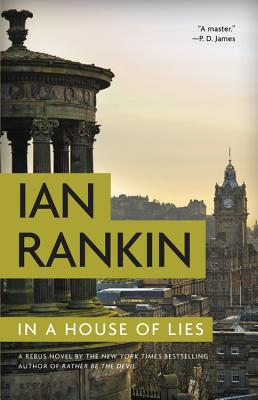 MysteryPeople Scott: How did the idea for In a House of Lies come about?
Ian Rankin: A magazine in the UK published a piece about a real-life private eye who had been 'executed' in a car park three decades back.  He had been investigating alleged links between gangland and high-ranking police officers. Well, that got the cogs turning in my mind…
MPS: Clarke and Fox's investigation gives doubts about Rebus' reason for his involvement in the case. As someone who doesn't outline before he starts, did you have your doubts about his motives in writing it?
IR: I always have doubts about Rebus and his motives.  Whose side is he really on? How committed to morals and ethics is he?  How far will he push against legality? Back in the 1980s, cops in real life had fewer qualms about bending and breaking the rules – mainly because there was less chance of them getting caught!  Rebus belongs to that generation…but he's trying to be good.
MPS: Much of the the book deals with possible police corruption or malpractice. What did you want to explore about the subject?
IR: I'm interested in the past and how it connects to and is different from the present day. Policing has changed radically. There's a lot of new technology around. Ways of tackling a murder case have changed.  I like to place a question in the reader's mind: things are different these days, but are they necessarily better? If rules or laws had to be broken before you could get justice, would you want that to happen?
MPS: To me the theme of the book is the relationship between facts and the truth with different lines of investigation and points of view effecting the conclusion each investigator comes to. Do you see a difference between facts and the truth?
IR: There's maybe a seminar's worth of discussion in that question!  Heck, maybe even a semester of moral philosophy, social and political theory, class structure, belief systems, et cetera!  But in a nutshell: we live in an age of fake news and distorted commentary. Maybe those were always with us, but we are more aware of them now when they happen (I think/hope).  Back in the day, it was easier for organizations such as the police to control the narrative. But they cannot hope to control what goes on in social media/online these days. There are competing stories, and somewhere buried within those stories lies something equating the truth.  That's what a detective is always doing: sifting competing narratives or versions of what happened to try to end up with knowledge and closure. And along the way, self-knowledge may also arise.
MPS: What have you enjoyed the most about writing for "retired" Rebus?
IR: I was worried about Rebus in retirement.  The challenge was: how does a 'civilian' inveigle his way into criminal cases?  But that challenge keeps me on my toes and also keeps Rebus on his toes. His health is another consideration as he gets older, and he no longer knows many of the (young) detectives with whom he comes in contact.  So he's having to work harder. But that makes him fun for me to write: he hasn't grown stale; he is always evolving.
MPS: During part of her investigation Clarke has to watch a film called Bravehearts Vs. Zombies. Any chance you've considered pitching that to a studio?
IR: Bravehearts versus Zombies would be a fun B-movie, no doubt about it.  I've not pitched it yet, but who knows…