When it comes to straight up entertainment, few authors can hold a candle to Joe Lansdale. His working class East Texas voice provides both a perfect and unique bed for action and humor, and few characters are as entertaining as liberal redneck Hap and his gay, black, Republican buddy Leonard. The two have been in more scrapes and exchanged more quips than both the real and fictional Butch and Sundance. Joe's latest foray with the boys, The Elephant Of Surprise, proves to be one of the most entertaining in the series.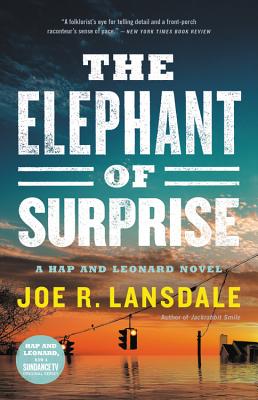 The story is stripped down and simple. Hap and Leonard are trying to get home before a storm hits and comes across an Asian American woman with her tongue sliced halfway through with a short kung-fu expert and a big guy who's good with guns after her. Since they're good guys and Texans, they help the lady and soon have more bad men after them. Things escalate from chase, siege, more chases, and a showdown in a bowling alley as the storm builds.
In many ways, this is Joe getting back to basics.With the exception of a couple of calls Hap makes to his wife Brett and their deputy pal Manny helping out, any of the usual supporting characters only appear in the last chapter. Joe keeps the plot simple, although he makes us wonder how the damsel in distress's story is on the up and up. It allows for a great amount of forward momentum with danger escalating as they get more and more outnumbered. Lansdale taps deeper into the pulp and fifties paperback roots of the earlier books in the series.
The Elephant Of Surprise is like a master blues man's acoustic set. It's taking everything to its bad ass bare essentials. Joe Lansdale shows that's all he needs to rock.
Mark your calendars to join us April 3rd at 7pm when Joe is here to speak and sign copies.