Alison Gaylin's If I Die Tonight uses the thriller to examine how social media affects our lives. It shows different points of view when a teenager is sent into a coma from apparently stopping a car jacking involving a one hit wonder from the eighties, and how rumors moving at light speed effect the lives of those caught up in the situation as well as those investigating it. Alison was kind enough to talk about the book and life in the era of Twitter.
MysteryPeople Scott: Social media plays a big part in If I Die Tonight. What did you want to explore with that subject?
Alison Gaylin: I'm really fascinated by social media as an unreliable narrator. In the book, the kids and the adults use it in this way – the grown-ups falsely glamorizing their lives on Facebook, the kids (and I suppose anonymous Reddit posters as well) using social media to spread rumors, lash out at each other, bully each other with untruths. I always say I like to write about things that scare me, and in this day and age, social media can be terrifying.
MPS: You have a teenage daughter. Do you think she will be formed in a different way than when we were teenagers by social media?
AG: Yes, I do. As I mention in the book, I feel like when I was a kid, we blasted music, clomped around in our Doc Martens, tied up the family phone and basically wore our heart on our sleeves. Our power was in making noise. This generation is about earbuds and sneakers and personal devices… They're so much quieter and more secretive, which makes them harder to know, help, save.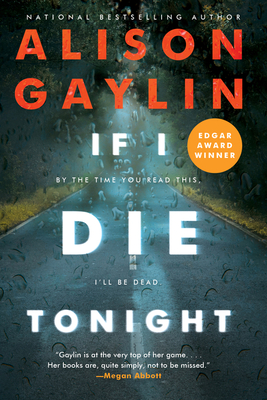 MPS: How much did having a daughter help you get the voices of the teenage characters?
AG: It did help in terms of getting a grasp of teenagers' concerns. And it was a story that my daughter told me – about a hit and run in a neighboring town – that gave me the initial idea for the book.  She also helped me understand SnapChat, which was invaluable! But my daughter's voice is very different from that of the two teenage boys in the book. She's a lot more open than they are – thankfully!
MPS: This is one of those thrillers that probably wouldn't have existed five years ago. Is there anything as an author you have to keep in mind when you're writing a story so of its time?
AG: I think the one thing to keep in mind is to make sure that there is something timeless about the story. Yes, this novel has SnapChat and Reddit and Facebook Live in it. But it is ultimately about guilt, secrets, and the terrifying process of raising teenagers – all of which have been around forever.
MPS: If I Die Tonight is a something of an ensemble thriller told through the point of view of several characters. What made you decide this was the way to go for this story?
AG: When I first decided to write a story about a teenager who may have committed a carjacking/hit and run, my first thoughts were, "What if I were his mother?" "What if I were his little brother?" "What if I were the woman whose car was taken?" and "Who is going to solve this crime?" All seemed like valid ways to approach the story, so I decided to go with all of them.
MPS: Aimee Em is the third character you've recently used in a novel or short story tied to eighties pop culture. Has anything drawn you to this period?
AG: What is that thing they say about the songs you used to listen to as a teen making the biggest impact on you, emotionally? I am fanatical about pop culture – I always have been — and I think that having grown up in the early 80s, I'm especially obsessed with that time period.