Meike Alana:  Matthew, I loved this book so much!  I think my favorite thing was the pacing–the story unfolded slowly, yet I was completely hooked from the beginning because I knew something good was coming.  What was your favorite aspect of Sunburn and what made you want to read it?
Matthew Turbeville: At first, I was skeptical of how much I would love this book.  My favorite has always been After I'm Gone, but knowing Laura as well as I know her (on both a personal and professional level), I believed in her wholeheartedly.  Needless to say, the book blew me away.  She made it as compact as a James M. Cain novel, as expansive as a Larry McMurtry epic, and as real as anything else she's ever written.  I think the best part about this book is the more I read it, the more I become entranced with it.  I've read it several times now and I still can't get over how great this novel is.
Meike:  I thought Laura Lippman's use of setting (a small, sort of second rate town that vacationers only pass through) and time period (mid 1990's) was masterful. How do you think those contributed to the story?
Matthew: It's so different from a lot of her other novels, which are set primarily in or around Baltimore.  Of course, there's some reason it's set in Delaware that hopefully I'll understand one day but am too absorbed with the plot of the novel to bother with at the moment.  I thought it was interesting because it paints this picture of a woman who has abandoned her children and this small-town feel only contributes to that, if you get what I mean.
Matthew:  How did you relate to Polly inside the novel? I know that she is an incredibly complicated character, as most of Laura Lippman's characters tend to be.  What did you think of her as someone who might abandon her child–and then that ultimate twist–but no spoilers!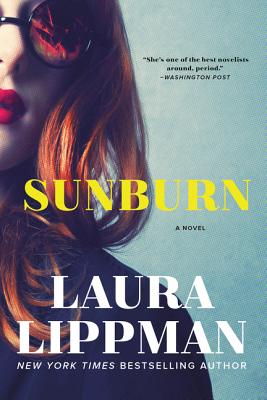 Meike: As a mom, I could not conceive of walking away from my child.  And the way Polly did it was so abrupt and final–she had planned the beach vacation specifically so she could get away from her family in a way that would make it very difficult to be found, which left her little girl devastated.  So my initial reaction was that this woman was a monster; I found her actions abhorrent.  That said, Lippman portrays her in a way that made you want to want to like her; you keep reading,  hoping for a sign that she had a good reason for her actions. It was absolutely masterful the way Lippman makes the reader sympathetic to Polly's plight.
Meike:  Your turn–what did you think of Polly?
Matthew: I thought she was a person.  Incredibly complicated, incredibly unique, incredibly just incredible.  I wanted to know more about her from the beginning–I wanted to know her history and I wanted to put all of the pieces together, but obviously I didn't get those answers until the very end (which is why readers should stay tuned!).
Meike: Adam is an equally complicated character.  What are your thoughts on how he conducted a relationship with Polly, never coming clean about his reasons for approaching her in the first place? Do you think his motivations changed as the story progressed?
Matthew: I would say his motivations changed as the story progressed (not that I want to give away his initial motivations before the readers gets ahold of his or her copy!).  I think that Laura Lippman is really gifted at very elegantly creating complicated characters–and in under 80,000 words, too! She has created a masterpiece on par with some of the greatest noir pieces, and she has created characters that I can come to again and again (as I have!).
Matthew: What was your opinion on Adam, Meike?
Meike:  I agree, Matthew, I think he changed. It's really hard to talk to you about this without giving too much away!  I think it's safe to say that both he and Polly continued to keep their secrets, but their reasons for keeping those secrets changed and perhaps made them become more sympathetic.
Meike: I know we don't want to give any spoilers, but that ending!  Did you see that coming?
Matthew: You're right.  I don't want to give away any spoilers.  Without saying too much, I will say that the ending was sort of a jaw-dropper for me.  But a lot of Laura Lippman books are like that.  She not only knows how to tug at your heartstrings, but also twist your mind so you never know what to expect from the story she's telling.  And ultimately, I feel this is a very feminist novel, about a woman caught in a very tough position who wants the best for herself and, well, I'll leave it at that.
Matthew: What did you think, Meike?
Meike:  You're so right, it was mind-blowing.  It was completely unexpected, and sometimes when that happens in a book it feel contrived. But here, Lippman made all the pieces fit and it was just perfect.
Meike:  One of our passions at MysteryPeople is to be matchmakers between writers and readers.  Who would you recommend Sunburn to?  Readers of what other books and/or writers?
Matthew: I think this book is for everyone.  Everyone.  I think that men can learn from it, women can heal from it (and some men, too).  I know I have healed from reading the book time and time again as well.  Any feminist should love this book.  It makes some really powerful statements.  Also, on a more basic level, anyone who loves a great suspense or noir novel would really love Sunburn.
Matthew: What about you Meike? Who would you recommend this book to?
Meike: As long as the reader isn't looking for a cozy mystery or in international thriller, I think anyone would love this book! While the plot is pretty intricate, it's not too complicated for the casual reader to follow and the pacing is spot on. Lippman has put a group of interesting, complex characters into a dramatic setting and unspooled an original tale of secrets and lies.  Sunburn is just a perfect choice for MysteryPeople's "Pick of the Month" for February!