Ken Bruen has created something that is not supposed to exist, a noir series hero. Since noir destroys the protagonist, he shouldn't be around for another sequel. However, like his contemporaries Reed Farrel Coleman and Megan Abbott, he looks at noir deeper, with a poet's eye. So after thirteen and right after the devastating Emerald Trilogy, Jack's life is shattered. When hope of getting the pieces together happens, a killer who goes by the name of Silence enters his life to take what's left. Ken was kind enough to answer some questions I had about the book, In the Galway Silence, and his character.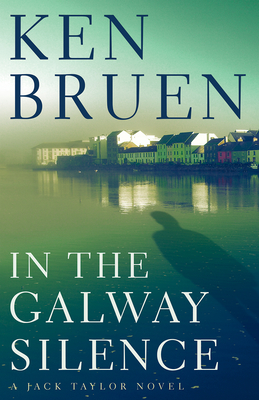 MysteryPeople Scott: In the Galway Silence is the first book after The Emerald Trilogy you wrote within the Jack Taylor series. How has has Jack's time with Em affected him?
Ken Bruen: Jack's time with Emerald has left him defeated in a whole new way, despite her actions, Em won a part of his grudging heart and it stole yet another part of his diminished soul to have to end her, in all ways, she left him bereft.
MPS: There is a theory that antagonist defines the protagonist. Silence is an unusual adversary. How do you see the way he goes after Jack?
KB: Terrific question. I believe it plays into the ' know thy enemy well lest you become him.' I think the most interesting adversary are those who possess much of the same personality traits as the protagonist. Silence instinctively intuits that way to destroy Jack is to literally dismantle his whole life.
MPS: Both Silence and chess come up in the story, what did you want to explore with both of those?
KB: Chess is my endless preoccupation and trying to invent a tactic that hasn't yet been tried, so Silence came from the dilemma of trying to invent a move that you don't know how to counter as it has no previous form.
MPS: Children and parenting play a part in the book as well. What made you want to have Jack deal with those?
KB: Another fascinating question, I have been reading a lot about people who are made to feel less than if they have no children — Jack over the course of the series has been almost a parent, and even a surrogate one but lost them, he had a faint notion that if he had a child, he might yet be part redeemable and when the impossible happens and he has a child, he learns the harsh truth of the saying "More tears are shed over answered prayers."
MPS: You have the current events that are going on as you are writing the books also going on in Jack's background. Do you think the world of Trump and Brexit have affected Jack like they have everybody or does his personality take it in differently?
KB: Brexit and Trump endorse Jack's view or rather confirm that the world is gone mad and these events and individuals ratify in his own noir sensibility that sometimes, the only recourse to such a world of awesome stupidity is a hurly and a bottle of Jameson and then, as you finally give up, it's not the dove of peace that lights up your own personal sky but a predatory bird, the falcon, in the falcon Jack sees that in this broken world, a broken man might yet fly through a bird of prey, through indeed a darker sky but as Yeats said, amid the 'Terrible beauty that is born' and in this instance, that flies,(the falcon flies in the next Taylor book).
MPS: There's times I think James Lee Burke, Reed Farrel Coleman, and you have a contest of who can make their series characters' lives the worst. Do you see any limit to what you'd do to Jack?
KB: I have long been fascinated as to what it is that eventually breaks a man completely — not Hemingways's theory of being strong in the broken places, in truth I have known since book six of the series exactly what would kill Jack in every sense, and I have tried to hint at the concept that it is not the major traumas that eventually destroy a man utterly but one tiny almost insignificant detail that proves literally to be the very last straw. This is shown at length in the new Jack I have finished, titled Galway Girl  and in the new book a falcon features darkly in the narrative
And is very much the ultimate chess piece/move I have searched for.