Greg Iles, the bestselling author of the Natchez Burning trilogy, returns with a new novel, Cemetery Road, about friendship, betrayal, and shattering secrets that threaten to destroy a small Mississippi town.
I was captivated by the Natchez Burning trilogy with deep characters, a fascinating protagonist in Penn Cage, lots of plot twists and an interesting exploration and investigation of white supremacists in the south in the past and present.
For this new book the main character is Marshall McEwan. He vowed never to return to his hometown after leaving at 18. The trauma that led to his departure won him journalism praise. As a former reporter I approve of Iles's descriptions of journalism in this and other books.
But now events in McEwan's hometown have conspired to make him return: His father is dying, his mother is struggling to keep the family newspaper from going under, crime rates are high, to name a few.
Mr. Iles, the author of 16 books and a novella, was kind enough to let us interview him by email for his new book, which comes out today.  He worked for several years as a guitarist, singer and songwriter in the band Frankly Scarlet. He quit the band after he got married and started writing his first novella. He, along with Stephen King, Dave Barry, Amy Tan and others, is a member of the literary musical group The Rock Bottom Remainders.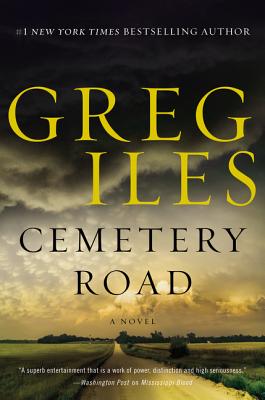 Scott: Where or how did this story come to you?
Greg: Cemetery Road actually grew out of the shocking secret revealed at the novel's conclusion.  I don't want to say more than that, but the core of my novels is always psychological and emotional, rather than depending on the externalized structure or details.
Scott: How would you describe your protagonist, Marshall, and his struggle in this book?
Greg: He's a Pulitzer Prize-winning Washington, D.C. journalist, who is forced to leave his career at its height to return to the small Mississippi town where he was raised.  Because of a bad relationship with his father, he swore he would never go back. But when his father is dying, he must return to run the family newspaper until it can be sold.  This is what throws him into contact with the corrupt group of men who run the town, much as their ancestors had since the Civil War. To his surprise, the crimes he uncovered there stretch all the way back to Washington, D.C.
Scott: What do you hope readers will take away from this book?
Greg: That much of what we see around us in life is dictated by knowledge that remains hidden.  At bottom, this is a book about secrets between parents and children, husbands and wives, and siblings.
Scott: Did it feel weird to be doing a book other than Penn Cage after your amazing trilogy?
Greg: It was actually a relief after the ten-year struggle that it took to produce the trilogy, which ended up exceeding two thousand pages.
Scott: I really enjoyed your three volume trilogy set in Natchez, Miss., which I only recently learned you wrote while recovering from a terrible car accident. What did the folks of Natchez, the city where you grew up and now live, feel about your portrayal of it?
Greg: A critic once wrote that I do my hometown the backhanded compliment of setting my novels there.  In general, the people of Natchez have been great about what I have written. That may be partly because the novels have ended up generating a fair amount of tourism for the city.
Scott: When does your next Penn Cage book come out and what's it about? I read you said there was still more you wanted to write about Penn Cage. Will we found out what that means in that book?
Greg: A lot of readers were a bit disturbed by the fate of Tom Cage at the end of the trilogy.  I always intended to return and deal with the rest of Tom's thread. The Fates aren't quite finished with Penn and Tom, and I think readers will be glad to learn that.
Scott: I have read that you long avoided writing series. What changed your mind on that?
Greg: Nothing changed my mind.  The first Penn Cage was intended to be a standalone.  Seven years later I wrote Turning Angel, thinking it would be the last.  Seven years after that, Penn tapped me on the shoulder, and the Devil's Punchbowl was the result.  And when I decided to deal with the Ku Klux Klan in Louisiana and Mississippi, Penn and Tom Cage turned out to be the ideal characters to do that.
Scott: As a Southern writer do you feel an obligation to tackle the mythology and stereotypes about the south?
Greg: Yes.
Scott: How does your work as a musician affect or help you as a writer?
Greg: As a musician and a songwriter, you learn a great deal about the rhythm of language and develop the ability to say a lot with very few words.  I write very long books, but I can hit readers in the solar plexus when I need to.
Scott: What is the status of the films being adapted from your books?
Greg: There has been a lot of interest all along, and some abortive deals made, but nothing is headed into production at this moment.
Scott: What are you working on next?
Greg: I'm working on at least three other things.  I don't want to give away what they are, but they are all very different from each other.  There is one more Penn Cage novel to come. A lot of readers were unhappy with where Penn's father ended up at the end of the last novel.  So that will come, but it's unlikely to be the next novel.