BookPeople made The Line, Martin Limón's latest mystery with Ernie Bascome and George Sueno, two U.S. Army cops stationed in early seventies Korea, our October Pick Of The Month.  It starts with the two called to a murder scene on the demarcation bridge between North and South Korea that leads into a mystery involving the South Koreans that work for the U.S. Army. While trying to find the real killer when an innocent G.I. is locked up, they also have to locate the missing wife an officer. Martin was kind enough to give us some in-depth answers to some questions about the book, the series, and the state of both Koreas. Martin Limón joins us Friday, November 2 at 7pm to talk about the book with author A.R. Ashworth and Scott Montgomery.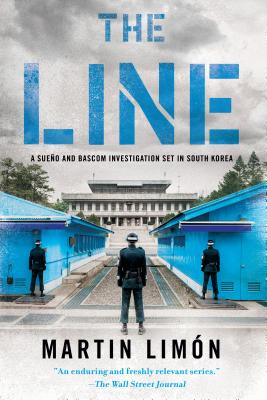 MysteryPeople Scott: The Line has one of the best openings of the year.  How did it come about?
Martin Limón: I've been to the Joint Security Area (JSA) a few times, starting in 1968.  It's always been an intense place and there have been more than a few skirmishes over the years.  One of them, the August, 1976 axe murder incident, resulted in two U.S. soldiers being hacked to death by North Korean guards.  Ironically, the JSA is also called "the truce village of Panmunjom."
At some point it occurred to me that this would be a good place to set a murder.  Of course, I knew who would be going up there to examine the crime scene, George Sueño and Ernie Bascom.  Then all I had to do was decide who would be murdered, what time of day they would be going up there, etc.  Once I had all that I decided to place the corpse right on the most contested spot in the world—the Military Demarcation Line—and imagined what would happen.  Not difficult. There would be an armed standoff; the North Koreans on one side, the U.S. on the other. Sort of a difficult setting for detectives to exam a crime scene but, undaunted, our boys take up the challenge.
MPS: You have George and Ernie work both a murder and a missing person case.  How did you deal with the challenge of two mysteries?
ML: I like plots and subplots, both as a reader and when I'm writing my own stories.  The challenge is to get them to blend together in some way that's (hopefully) believable and, more importantly, for their essences to somehow complement one another.  In this case I had the Korean Noh family, who had suffered the grievous loss of their son, in the main plot and the American Cresthill family, experiencing the anguish of marital breakup, in the other.  I hope the two stories worked well together. I was actually contemplating a third subplot; that of the Korean-American lawyer, Corrine Fitch, searching for her birth mother. But it was too much for my meager intellect to work out.  Instead, it remained implied but not fleshed out.
MPS: I felt this book looks at women in both Korean and Army society.  What did you want to explore with the female characters?
ML: Military spouses and other family members often feel isolated.  Sometimes physically, as at Fort Irwin in California's Mojave Desert where the nearest town is forty miles away.  Or at 8th Army headquarters in Seoul. Even though the 8th Army Yongsan Compound sat in the heart of a city of over 10 million souls, that city was South Korea's capital and a teeming Asian metropolis if there ever was one.  Some of the Americans on base felt as if they were floating on a small raft atop a churning sea. And the military expects those family members (which they call dependents), and especially the wives, to follow a precise and lengthy list of unwritten rules.  Don't ever dare embarrass your husband, number one. Accompany him to the many and varied command social events where you must smile, smile, smile. Volunteer your time to charities specified by the spouse of the commanding general. Some women rebel, by turning inward.  Others act out. I've seen it and it is sometimes not pretty, but always very human.
With Corrine Fitch I had the ambition (probably not realized) of depicting the ambivalence of someone returning to the country of their birth but being fundamentally a stranger.  What must that be like? What questions must arise? I didn't take that part of the story as far as it needed to go but it still intrigues me.
MPS: How would you describe George and Ernie's relationship with the Army?
ML: Love/Hate.
What George loves about the army is that it gives him a sense of purpose.  A job with a very specific aim: to solve crime and rescue the innocent.
What Ernie loves about the army is that it encourages him to replace heroin addiction with the perfectly acceptable alternative of alcoholism.  As a bonus, the pomposity of the army brass gives him a world of blowhards to rebel against.
What George hates about the army is their overwhelming bureaucratic desire to cover up any and all bad news.  Especially crime.
What Ernie hates about the army is they make him wear a hat, which he believes is a plot to cut him off from the universe.
MPS: Your latest books have been some of your best.  What has experience lent to your work?
ML: When I started writing, over 30 years ago, I realized immediately that this was a craft or sullen art (to quote Dylan Thomas) in which I would always keep learning—and never master.  I do think my books and short stories are a little better now, mainly because of the help of editors and agents and critics and even the occasional reader. Reader complaints, of which I've had some which were extremely bitter, feel like a hot needle shoved into a raw nerve.  However, I crave them. First, it proves that the person read and cared about my work. Second, it gives me a chance to evaluate the criticism and decide whether or not it is valid. Usually, it is. And once that needle sinks into tender flesh, I can never forget it. And the next time, when a similar case arises, I'm prepared to do better.
MPS: North and South Korea have been in the news even more.  What should people in the U.S. know about the culture?
ML: Someone asked me if I wrote The Line because the North Korean crisis is so much in the news lately.  The fact of the matter is that I conceived and wrote the first draft long before Donald Trump ever made his fire and fury or little rocket man comments.  In fact, back then when I started no one imagined he'd ever become president.
Since 1953 the Korean DMZ has always been in crisis.  In January 1968 a North Korean commando unit unsuccessfully attacked the Blue House, the South Korean version of our White House.  In the same month, the North Korean navy committed an act of war by boarding and commandeering the USS Pueblo on the high seas. They held the American crew in a brutal captivity for almost a year.  In April 1969, North Korea shot down an EC-121 US Navy reconnaissance plane, immediately killing 31 sailors. And there have been plenty of violations since then. South Korean military deaths, at least back in those days, were common and many of them went unreported in the international press.  The US Army averaged about one American death at North Korean hands per year.
Now these friendly fellows have the bomb.  I, for one, don't believe they'll ever give it up. No matter how many bows and handshakes our president provides.
Culturally, on both sides of the border, the desire for Korean reunification is great, and it's the official policy of both governments.  From what I've read, Kim Jong-un's goal in life is to reunify the peninsula under his regime. To him, mutual nuclear disarmament means that the US would withdraw our troops from South Korea and remove the South Koreans from the protection of our nuclear umbrella.  Once that happened, I believe, he'd feel free to start bullying the South Koreans and use political and military pressure to gain his aims. He knows that if he did manage to reunify Korea, even under such a brutal totalitarian state as the one he now runs, his place in Korean history as a great hero would be assured.