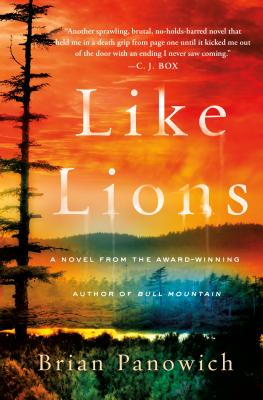 Brian Panowich got the attention with Bull Mountain in the spring of 2015. For four years, many of us have waited for its sequel, Like Lions, and it is finally out. The book picks up some months after the last one with Sheriff Clayton Burroughs still dealing with the fall out of having to face off with his outlaw family. Part of that deals with the vacuum created by his brother's absence and other players wanting to take over the crime in his county. It also pulls his wife Kate back into the violence, having to face who she is and what she's capable of. All of this pays off the wait for Bull Mountain fans. Brian will be at BookPeople tomorrow, May 1st. Not wanting to have his wait this time, he answered some questions ahead of time.
When Bull Mountain came out it sounded like the follow up was on it's heels. What can you tell us about the four year wait?
I think enough people have read Bull Mountain, or heard me tell this story in person enough, that I can give you the answer to that without spoiling anything, but in my original manuscript for Bull Mountain, I killed Clayton Burroughs—the main protagonist. The bad guys won. That was the story I wanted to tell, but in the twilight hours of finalizing the book, my agent, and my editor both convinced me to keep him alive, so I altered the ending and the book that came out left a living breathing Clayton Burroughs in the end. The decision was a sound one because a lot of people all over the world fell in love with the character, but the other side to that coin, was that he didn't fit in at all to the next story I wanted to write, which featured his wife Kate as the main protagonist. In other words, I had a character everyone wanted to read about that I didn't know what to do with. Like Lions was already fleshed out and it was/is a story about women, so it took me a hot minute to be able to tell the same story I wanted to tell and still include Clayton Burroughs. I also didn't want to use a shoe horn to do it. I didn't want it to feel forced, and in the end I feel like I was able to accomplish a decent balancing act. Add publisher issues and the life of a father of four to the equation and the result was a timespan between books that no one was less happy about than me. But the book is finally here so upward and onward.
You used the idea of a sequel to deal with the fall out of violence. Was there anything you had to keep in mind about what happened to Clayton in Bull Mountain when you were writing Like Lions?
The violence had just become landscape to Clayton by this point in time. He'd seen so much of it, he was hardly fazed by it anymore, even when he's actively participating. His main conflict is he's haunted by the death of his older brother and lives in his head with that guilt most of the time. I imagine anyone would. It isn't until that violence, for the first time ever, comes calling on his own wife and son is he finally shaken hard enough to realize everything isn't about him or his pain. He has other people counting on him. I believe in that moment, that's the first time in two books we finally meet the real Clayton Burroughs. Now I kinda love the guy, too.
Once again history, particularly family history, plays a big part in the story. What draws you to that theme?
Mainly my fascination of people being part of one. I never had that growing up, being a military brat. I never knew the draw of family or the deep roots that were planted. The idea of "legacy" is something I think I'll be playing with for a long time to come.
The women came more to the forefront in this book. Did that have any effect on you writing  it?
It had everything to do with it. I explain some of that in my answer to your first question, but everything about this book down to the title revolves around the women involved. I've always been appalled by the idea of having to have a white knight come in and save the damsel in distress, or the vixen sidekick to the REAL male villain. I'm been like a broken record about this ever since Bull Mountain. And maybe it's a good thing it took this long for the book to come out, because if you look around, the revolution has begun. Someone read an earlier draft of Like Lions once it was ready for outside eyes and told me that there was no way a woman could hold her own against a group of evil men the way I'd written it. As soon as I heard that, I knew I got it right, and didn't change a word.
While the book has your voice, I couldn't help notice the influence of of one of your favorite authors, Elmore Leonard, especially when it came to use of humor. What do you admire about his writing?
What is there not to admire? He could turn from hard boiled violent crime to comedy on a dime, from western grit to urban underworld before you know what hit you. He also is the king of dialogue. There is no one better at making you fall in love with a character simply by listening to him or her speak than Dutch. I lean on his stories like text books. The character of Wallace Cobb in Like Lions was directly influenced by Elmore Leonard, and I hope I made him proud.
Will we have to wait four years for the next book?
Ha! No. I've already turned in my third novel and it's slated for spring of 2020. I've found an editor in Kelley Ragland at St. Martin's and Minotaur that really feels like a partner in crime. With her next to me, I'm finally cooking with gas.