Our review of December's Pick Of The Month: Blood Truth by Matt Coyle:
Matt Coyle understands mood and emotion is essential to a private eye novel. While delivering and engaging plot with plenty of action, his main ambition is getting into the head and heart of his tarnished knight Rick Cahill. In his latest, Blood Truth, it's all personal.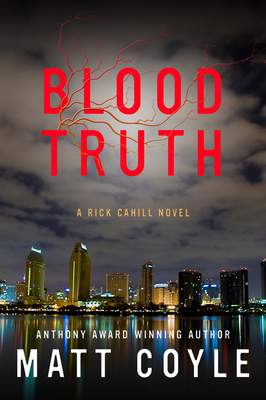 Cahill has two cases that haunt him better than any ghost. An old flame he still carries a torch for hires him to follow her husband to see if he is cheating. Also, while at his family's home, he discovers a hidden safe. Inside are a pistol with two missing bullets, fifteen thousand in cash, and a safe deposit key, all connected to an unsolved murder that resulted in his father's dismissal from the police. The case for the old flame leads to a body in a car trunk.
Both mysteries dovetail beautifully into one another. Coyle executes the reveals and reversals that pilot the story like a master craftsman. Both involve moral decisions and preconceptions Cahill must face along with the danger as he deals with his father's sins and lost love, all with a dangling possibility of healing if everything is solved.
Like Reed Farrel Coleman, Matt Coyle is able to tap into that classic melancholy of the private detective. He realizes a true hard boiled hero isn't completely tough. It's those vulnerabilities that draw us in as he struggles with his soul. For Coyle, it's not what lurks down those mean streets that pose the greatest threat for our hero, it's the loneliness one has walking down them.