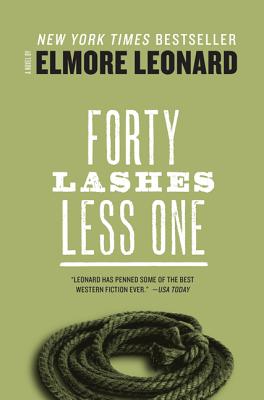 For November, The Hard Word Book Club discusses a book by one of the
greats at a transitional moment in his career. Elmore Leonard's Forty
Lashes Less One was the last western he did before starting crime
fiction. Containing many elements in those future books and taking
place in less than wide open spaces, this can be viewed as him taking
steps forward.
The two protagonists are Chiricahua Apache Raymond San Carlos and
Harold Jackson, a black former soldier, sentenced to life in Yuma
Prison. To put Jackson in his place, the king of the cons, Frank
Shelby, tricks him into a fight with with San Carlos. Raymond and
Harold bond when tossed into the hole and become the pet
rehabilitation project for a the new warden, who is also a minister.
When the inmates need to be moved to a new prison, Shelby plans a
breakout and Raymond and Harold plot revenge.
Forty Lashes Less One is funny, tough, and very unique. It provides
much to talk about with how the characters view race and religion. It
is also provides great examples to talk about crossing genres and
Elmore Leonard. We will be having our discussion on Wednesday, November
29th, 7PM on BookPeople's third floor. The books are 10% off to those
planning to attend.