I bring good news for fans of Agatha Christie:  Author Andrew Wilson is writing a series I think Christie fans, and many others, will truly enjoy.
Wilson, an award winning journalist, has written biographies of Patricia Highsmith, Sylvia Plath and Alexander McQueen and that work enriches his other fiction writing.
Wilson, a big fan of Christie, has come up with a clever idea for a series: Have Agatha Christie as a character in the books.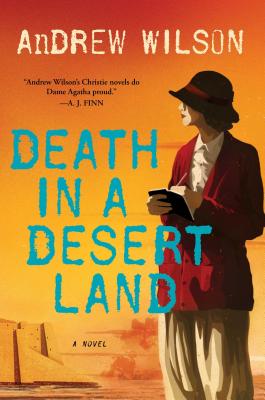 In Death in a Desert Land, Agatha Christie gets a letter from a family who believes their late daughter, a prominent archaeologist, recovering ancient treasures in the Middle East met with foul play. While Gertrude Bell overdosed on sleeping medication, found near her body was a letter claiming that Bell was being followed and to complicate things further, Bell was competing with another archaeologist, Mrs. Woolley, for the rights to artifacts of immense value.
Christie travels to far-off Persia, where she meets the enigmatic Mrs. Woolley as she is working on a big and potentially valuable discovery. Temperamental but brilliant, Mrs. Woolley quickly charms Christie but when she does not hide her disdain for the recently deceased Miss Bell, Christie doesn't know whether to trust her—or if Bell's killer is just clever enough to hide in plain sight.
Wilson was kind enough to let me interview him about his novel and his series.
Scott Butki: How did you come up with the idea for this story?
Andrew Wilson: I've always been fascinated by the real-life travels of Agatha Christie and intrigued that the writer traveled from England by herself to the archaeological site of Ur in southern Iraq in 1928. It was the location for her 1936 novel Murder in Mesopotamia. The other source of my inspiration was the Mesopotamian collection, particularly the artifacts from Ur, held at the British Museum. There is a stunning collection of daggers, death masks, exquisite jewelry and details of what the archaeologist Leonard Woolley—a real-life figure who is one of the characters in my novel—named "The Great Death Pit." He unearthed evidence of ritual human sacrifice—the servants of the King and Queen of Ur seemed happy to give up their lives when the royals passed away. I thought this would make the perfect backdrop for a murder mystery, which Agatha Christie herself has to solve.
Scott: What made you decide to start a series of novels in which author Agatha Christie is a character? Why her instead of one of her characters? How far back did you have this idea?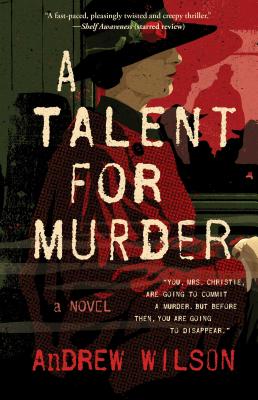 Andrew: I first came up with the central idea for the series — Agatha Christie as detective—on a train, which is a very Christie location. It just came to me out of blue. The first novel in the series, A Talent for Murder, was published in 2017 and I had the idea back in 2013.
I couldn't include any of her characters in the books — Poirot and Miss Hercule are copyrighted characters and are the intellectual property of Agatha Christie Ltd. I didn't want to do that anyway, as I wanted to explore the personality of Agatha Christie herself, who was such a fascinating person.
Scott: How did you research the books in this series? Should they be read in order?
Andrew: For A Talent for Murder I looked at police statements, newspaper reports and various books to piece together the real-life sequence of events surrounding Agatha's disappearance in 1926. I also travelled to Newlands Corner, in Surrey, where Agatha abandoned her car and also to Harrogate, the place where she was discovered after 'disappearing' for 10 days. For A Different Kind of Evil I traveled out to Tenerife, where Agatha visited back in 1927.
And although I wanted to travel to Iraq for research for Death in a Desert Land, it was too dangerous. I have been to Yemen so I drew upon my memories of travelling through the desert for that book.
They are stand alone novels, but of course they follow a chronological course, starting with A Talent for Murder, set during the real-life disappearance of Agatha Christie in 1926. This was followed by A Different Kind of Evil, set in early 1927 when Agatha traveled to Tenerife and the third one is Death in a Desert Land, set in 1930 in Baghdad and southern Iraq.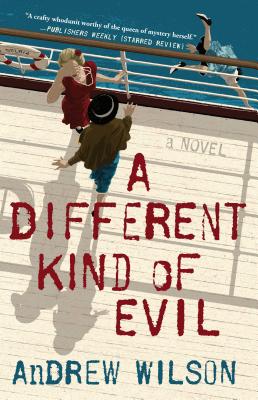 Scott: Believe it or not there are some readers who might come to your books having never read any Agatha Christie. Would you encourage them to read some of her books before they start yours? If so which is a good one to start with?
Andrew: Yes—of course! You don't have to read Christie to enjoy my novels, but you probably will get more out of them if you do. There are lots of playful references and sidelong glances to Christie's work. I'd start with one of her masterpieces, The Murder of Roger Ackroyd, which was published in 1926. I'd also add Death on the Nile, And Then There Were None, and Five Little Pigs.
Scott: How did having previously written biographies of Patricia Highsmith and Sylvia Plath help you as you wrote this series? Also how does your journalism background affect your work as a novelist?
Andrew: I love the process of the biographical research, looking through archives, letters and old photographs to bring someone alive from the past. I set these novels in locations we know Agatha visited at a specific time—for instance, we know that Agatha traveled to southern Iraq, and visited the archaeological dig of Ur, in the autumn of 1930. I try to capture the essence of certain places.
Scott: I see from your biography that you wrote a book about the survivors of the Titanic.  How did you come up with that idea, and how did it go?
Andrew: I've always been fascinated by the story of the Titanic, but I realized that all narratives ended when the rescue ship, the Carpathia, docked in New York. I wanted to know what happened to the 705 survivors after that point. How did the disaster effect them? How did it shape the rest of their lives? And I discovered a mostly unpublished archive belonging to Walter Lord—author of A Night to Remember—at the National Maritime Museum in Greenwich, London, which was a treasure trove of information.
Scott: What are you working on next?
Andrew: I'm finishing the edits on the next novel in the series, which is called I Saw Him Die, and set in August 1930 on the island of Skye in Scotland. Agatha Christie was there on Skye for a month before her second marriage to the archaeologist Max Mallowan. It's a homage to Christie's nursery rhyme novels.
Scott:  Your bonus question: What is a question you wish you would get asked in interviews. Here's your chance to ask and answer it.
Andrew: Who are your literary parents?
I'm the son of Agatha Christie and Patricia Highsmith!