Charles Willeford pushed the boundaries of what we define as crime fiction. Many of his books just skirted with a crime, but his portrayal of characters you had to take on their own terms, examination of life in both quiet and loud desperation, and frank depictions of sex that were rarely romantic placed him as a stalwart of the genre. Recently Hard Case Crime brought back a book that is indicative of Willeford's style that has been out of print for over half a century, Understudy For Death.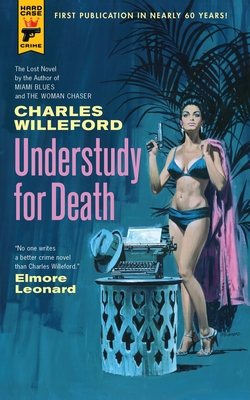 The story is driven by Marion Huneker, an upper middle class woman who shoots her two sleeping children, then pulls the trigger on herself. The book opens with the news story in the local paper that even prints the suicide note she left that explains little more than her seeing this place as a cruel world. The editor would like to use the incident for a several issue exposé on suicide and puts his night man Richard Hudson on it.
Hudson reluctantly takes the piece. For one, he is not one of those driven reporters out for the truth and a scoop. He dreams of quitting his job to be a famous Broadway playwright even though he has been working on the same unfinished script for years. He also has no sympathy for a woman who killed her two children.
He interviews several people who knew Huneker. A bartender at her club, a girlfriend, who he has a fling with, and her husband give murky puzzle pieces to her life. Her creative writing teacher, a hack short story man for the magazines, proves the most insightful to the woman as well as probably conveying Willeford's thoughts on the writing business at the time. Hudson becomes much like the reporter in Citizen Kane, peeling each layer of the woman's life through the people that knew her, but there is no Rosebud.
In fact, the more Hudson digs, the story becomes more about marriage than suicide. He and his wife Beryl, are in a stale part of their relationship and he chafes at matrimony's constraints. As the secrets of both the late Mrs. Huneker and Beryl are revealed to him, he ties the suicide to happiness (or lack there of) in being a wife and mother.
Willeford captures the surrealness of a group that lost someone to suicide. He avoids any pat answers and delivers a subtle mood to portray the void that now hangs over everything. As someone who lost a co-worker to suicide the day between finishing the book and writing this review, I can attest to its emotional accuracy.
He also gives us an unconventional point of view to take it all in with Richard Hudson. The reporter is self involved, petty, and commits a handful of misogynistic acts. We mainly follow him because of his worldview and possibly identify with him in ways we would rather not. He embodies a perfect example of suburban ennui. He would love to be a rebel, but he lacks the courage, so he simply holds things in contempt. At the end, we are not entirely sure if he completely learned the lesson or learned it right.
Understudy For Death is elusive in its themes as it is in the reason for Marion Huneker's suicide. It is the study of a fresh void and the life around it. Like many of Willeford's novels, it portrays death as that unavoidable thing and the way we deal with it in our lives. Willeford held up a mirror to the reader and didn't care if you liked what you saw.