Jeff Abbott is a perennial BookPeople favorite, and his new book doesn't disappoint. Here, Meike reviews it ahead of Jeff's visit to the store Thursday, October 25th at 7pm to discuss it.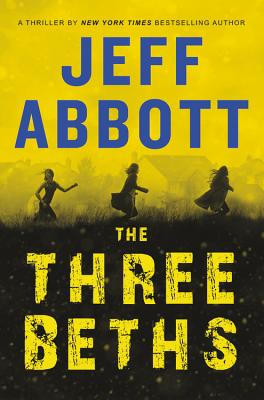 You know that feeling you get when you think there might be someone following you? You walk a little faster, and then they walk faster, too? And the faster you go, the faster they go, until at the end it's straight up race for survival? That's how Jeff Abbott's latest standalone, The Three Beths, feels. You've been warned.
It's been a year since Mariah Dunning's mother Beth vanished from their home in Lakehaven, TX,  a comfortable suburb of Austin. The residents there have known each other for years, so Mariah acutely feels the suspicion that's fallen on her father Craig. One day she briefly catches sight of a woman who Mariah believes might be her mother, and she becomes more determined than ever to discover the truth to her mother's disappearance. That's the only way she can prove not only that Craig didn't kill his wife, but also that Beth didn't choose to walk out on her daughter. With the help of a crime blogger, Mariah discovers that two other Lakehaven women disappeared recently—both of them named Beth.
In a story with multiple plot lines like this, the pacing is critical and Abbott hits the mark — each part of the story is revealed subtly and at just the right time. That leaves the reader simultaneously wanting to race to the next clue and trying to slow down so as not to miss any important details. And there are just the right amount of twists and turns to keep things lively without going off the rails.