In Scrublands, Australian author Chris Hammer writes about a journalist, Martin, sent to a drought-ravaged town in Australia where the one year anniversary of an event is coming up: A year earlier a priest, minutes before a weekend service, stood on the church steps with a gun and shot several people before being killed himself.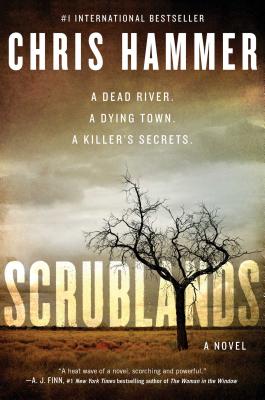 Martin finds things are not as it seems as far as the story told about the incident and, while investigating, there are fires, a fatal car accident and he falls in love with a local resident.
The old journalism rule about not becoming part of the story is broken repeatedly. This book has twist after twist including Martin publishing stories that seem accurate at the time, but soon turn out to be otherwise. This is great writing that will keep surprising you.
Hammer was a journalist for more than 30 years before becoming a full-time novelist with the success of Scrublands.  He served as an international correspondent, the chief political correspondent for The Bulletin and a senior political journalist for The Age. His first nonfiction book, The River, was awarded the ACT Book of the Year Award and was shortlisted for the Walkley Book Award.
As a lover of good mysteries and a former journalist myself, I recommend this book
Hammer agreed to let me interview him via email.
Scott Butki: How did you come up with this story?
Chris Hammer: I have no idea where large parts of the story came from. For example, mass shootings are rare in Australia – those that do occur are typically domestic murder-suicides. I know of no real-life basis for the homicidal priest Byron Swift, here or in the US.
I was a journalist for 30 years, including extensive stints as a roving foreign correspondent, so those helped inform protagonist Martin Scarsden – for example, I did report from Gaza.  But character-wise he is unlike me.
I travelled through large parts of inland Australia about ten years ago at the height of the 'Millennial Drought' – the deepest and most prolonged since European settlement – researching my non-fiction book The River. I visited towns where the river had literally run dry. So the setting for Riversend is based on that.
There was a case some years ago involving Australia's most infamous serial killer, a man named Ivan Milat. He would pick up hitchhikers, torture and kill them. It's likely one story line grew from that seed.
There are other bits and pieces that may have origins in real life but much of it has bubbled up from the imagination. Which is good – it encourages me to think I can write more books like this!
Scott: Which came first, the priest and other characters, or the plot?
Chris: The idea of the priest, Martin and Mandy came first. The plot changed and changed again, evolving over time. Entire plot lines and several characters were thrown away and new ones developed. I reckon I discarded more than 200,000 words before settling on the final manuscript.
Scott: The press release for your book states, in part: "The ever-growing popularity of Australian authors like Liane Moriarty, Hannah Kent, and Kate Grenville proves that American readers are hungry for stories about the land down under, a country that feels remarkably familiar while remaining a world away. Interestingly, it turns out that Australia has a wild west, too, and it's strikingly similar to ours." Do you think this is the case? Also, are Australians interested in America's "wild west?
Chris: Australia is a large country, but our population is relatively small. In the past, we have been wholesale importers of culture: movies, tv, books, music, particularly from America and Britain. We still are. So Australians are far more familiar with American culture than vice versa. For example, my dad was a big John Wayne fan and his favourite movie was Shane. So yes, Australians are/were interested in the wild west, as they are with other aspects of American culture.
I'm not sure there is anything particularly wild about the west in either the US or Australia nowadays. Certainly not in the sense they are lawless.
I think Australia does capture the imagination of Americans, who might see it as simultaneously familiar and exotic. I have met Americans who hold an almost nostalgic view of Australia: they see it as a more innocent version of the US, like America used to be. They often warn me: "Don't do this or that, or you will end up like us."
Scott: As a former journalist myself, I found myself cheering along journalist Martin Scarsden. Is Martin based on journalists you have known and/or aspects of yourself?
Chris: Scrublands is certainly informed by my past as a journalist, although Martin isn't based on any particular person(s), and certainly not myself. Certainly, much of the journalistic process in the book is familiar to me, as is the way journalists act and the way they view the world and their craft. However, Martin is no exemplar: he is constantly getting stories wrong! This was one of the ideas I had from the start; a protagonist who gets things wrong.
Scott: How has your career of journalism helped you when writing this novel?
Chris: The discipline of writing is there. While some aspiring writers may wait for inspiration and struggle with writer's block, no journalist can tell their editor that they aren't feeling inspired and may not file!
I don't get too attached or sentimental about what I've written and I don't get precious during the editing process. Particularly in television, editing material and parring it back is all part of the process.
For many years I made long-form television reports of around 30 minutes in length. I think this has helped me with pacing and structure and developing through-lines i.e. leading a reader through a story.
Scott:  Do you have any thoughts or questions you hope readers will take away from this book?
Chris: Not really. I hope they enjoy it and that it might fire their imaginations. There is a theme there of inter-generational trauma, but the book is not meant to be didactic.
Scott: Was it hard switching from non-fiction to fiction?
Chris: No, I found it liberating. Now I get paid for making stuff up. How good is that?
Scott: How do you feel about your writing being compared to Jane Harper and James Lee Burke?
Chris: It's a compliment, of course. I guess it's natural for debut novelists to be likened to established writers. That said, I certainly haven't modeled my writing on any other author, at least not consciously. I hadn't heard of Jane until I'd finished the first draft of Scrublands, but I'm honoured to be compared with her. And grateful. I think the success of The Dry has almost certainly helped other Australian crime writers, myself included, to find publishers and readers in the US and elsewhere.
Scott: Are you hoping this will be the start of a series?
Chris: Yes. I am well into the follow up to Scrublands (which was published July 2018 in Australia). We have a tentative Australian publication date of late 2019 for the next one. It again features Martin and Mandy. And there's likely to be a third book as well.