It is difficult reading Philip Kerr's Metropolis and not seeing it as a swan song for his series character Bernie Gunther, a pre- and post-war private detective in Berlin, and his creator Philip Kerr. Kerr wrote the novel knowing he had inoperable cancer and this would be his last work. Whether intentional or not, the book becomes a summing up of Bernie and his era by going back to the beginning.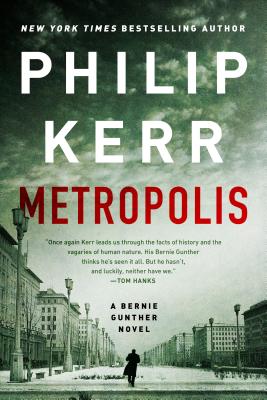 Kerr reintroduces us to Bernie as a police detective in Kripo, just being promoted to the Murder Squad. It is the Wiemar era, 1928. Berlin is both decadent and suffering from reparations from The Great War. A killer roams the streets, taking scalps of prostitutes. When homeless, disabled veterans turn up murdered, Bernie believes it to be the work of the same man.
The case weaves Bernie through the culture and corruption of his time and place. Angerstien, a major player in one of Berlin's crime rings whose daughter was murdered by the killer, assists Bernie and offers to give up the arsonist of an infamous fire if he catches the killer. When Bernie decides to disguise himself as a legless vet, he is assisted by Bridgette, an alluring makeup artist working on Kurt Weill's Three Penny Opera as it debuts. Bernie constantly mocks the show and its music. He even acts as a technical adviser for screenwriter Thea von Harbou, who is developing a thriller with her husband Fritz Lang about the hunt for a murderer. A viewing of M is a must either before or after reading.
Kerr gets to the core of Bernie by looking at him between the wars. He has already developed his cynicism having fought in the trenches of The Great War and working Vice, yet he still believes that justice is not an elusive thing. He has already developed his sardonic sense of humor. Some of his best quips are in here. However, we see what may be his last chance at real love with Bridgette, before he takes on the trope of the lonely private eye.
Angerstein asks a question to Bernie, foreshadowing of things to come. "When you're the last honest man in Berlin, will anybody care?"
I couldn't help but think that Kerr knows how we, the readers, have cared about what we know Bernie will go through, even if everyone in his world doesn't.
Metropolis looks at Bernie and Berlin when both had a lot in common. they've been though a lot, think they've seen a lot, but have no idea what is in store. By ending at the beginning, we reflect on the dark, harrowing, insightful, yet entertaining journey Bernie's and his creator took us on.
Thanks for the trip, Phil.