J Todd Scott's latest novel, This Side Of Night, has his returning protagonist Sheriff Chris Cherry dealing with the politics of his first election and a possible cartel war spilling over the border. Teaming up with DEA agent Joe Garrison and backed up by his deputies like America, takes on bad men from every side. Mr. Scott will be at BookPeople July 18th to discuss This Side Of Night, but took some questions in advance from us.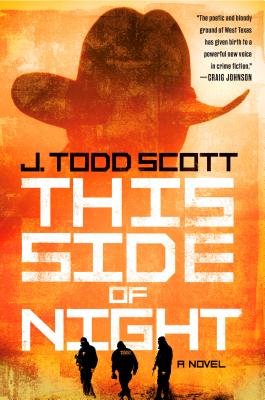 I felt Chris Cherry has grown some since The Far Empty.
I'd say he's definitely "growing into" the badge he wears. And, frankly, he's a little more world weary by now. He never wanted to wear a badge and struggles with both the authority and the responsibility, neither of which he takes for granted. In each of the three books, I've given Chris a mentor, an older cop he can learn the job from, both the good and the bad. In The Far Empty it was Stanford Ross. In High White Sun, it was Ben Harper. Now, in This Side of Night, it's Joe Garrison. These are men whose lessons and philosophies Chris can emulate or reject, so maybe what we're really seeing is Chris grow into his own.
It's interesting you and Don Winslow both used the same true life massacre of a busload of

protestors

in Mexico as the inciting incident for your books this year. What did you want to explore with that crime?
We're both writing about Mexican cartels and the border, covering some of the same terrain (literally and figuratively), so it's no surprise we were both drawn to that tragic event.  For someone like me, who's worked on the border for nearly half of my DEA career and, until the Ayotzinapa massacre, truly believed I had seen it all, I discovered I can still be horrified by cartel violence. Nothing I could ever write could ever explain what happened, or honestly, add much new to the conversation, but I hoped by including it in This Side of Night, I could—in some small way—draw attention to those still lost and the families who still grieve for them.
America has become one of my favorite characters in the series. As a writer, what do you enjoy about her?
I've said it in other contexts, but America has always been the "center of gravity" of the books, and when we optioned them and began the long (and still ongoing) process of bringing them to the screen, every discussion at every studio has involved America's prominent role as a "co-lead" with Chris Cherry. Also, as the father of three girls, I wanted to portray a strong female character who has her own agency, and I hope I've done that with America. She's tough and determined and easy to root for, but she's far from infallible, and that's the best sort of character to write.
As a DEA agent who works with local law and other agencies, what do you want to convey to readers about those in law enforcement?
It's tough because I don't want my career to serve as a broad-brush generalization of law enforcement or those who carry a badge and gun. My only experience is twenty-five years as a federal agent, both overseas and domestic, with about half of that on the Southwest border. I've never been a homicide detective or state trooper or a patrol officer; never had to notify or interview the next of kin in a murder investigation or answer a domestic violence call. However, I've known many, many, others who have done all those things and more, and all of us in law enforcement share a certain bond through our unique calling. I've been fortunate to work with some of the best criminal investigators in the world, and by and large, all of them have been a credit to the badge they wear—unfortunately, those aren't the ones I tend to write about!
As grim as things get, I noticed more humor in this book, than the previous two. What do you think allowed for that?
I'd like to think I'm far funnier in person than ever comes across on the page, but I don't know that I tried to "lighten up" in this third book! I do think this story had a few more characters who lent themselves to that. Cops and agents—and criminals—often have a gallows humor, and since this book more than any of the others really deals with "cops and criminals," it's no surprise that more of that sharp-edged humor found its way to the page.
Have you discovered anything that both your profession as a writer and your one in law enforcement share?
Patience. Drug cases aren't made overnight and neither are writing careers. That being said, there's also a fair amount of creativity involved in catching people who desperately don't want to be caught, and before I started writing again, catching bad guys was my only creative outlet. However, it's a helluva lot safer writing about cartels and criminals than facing that out on the street.