David Swinson's Frank Marr has become one of my favorite private eyes. A functioning drug addict with a lot of dysfunctional relationships, he is just as likely to go looking for a fix before a suspect. In Trigger, reported to be the end of the Frank Marr trilogy, he takes a case that could lead to redemption or send him spiraling to oblivion.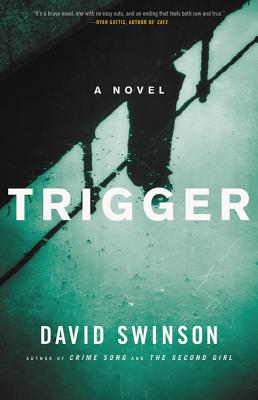 Marr has quit using, but he doesn't appear much better. He still raids drug houses, but flushes down the contraband he finds, using the rush as a replacement for the narcotics. The fact that he downs a lot of alcohol throughout the book is also suspect. He walks a razor's edge asking to get cut.
Leslie Costello, the attorney he works for who is also his ex, gives him a job that hits close. She's representing his former D.C.P.D. partner Al Luna who is accused of a bad shooting. Al swears he saw a gun, but none can be found at the scene. Frank's work for the defense has him working with Calvin, a young black man who was at the wrong end of his abuse of authority in his police days. Their search for answers puts them in the middle of a drug war with shifting sides.
Swinson pulls no punches in his depiction of Frank. He follows the hard boiled school of the reader taking the protagonist on his own terms. If you haven't read the previous books, The Second Girl and Crime Song, you may have difficulty in liking him at first. He is responsible for his own faults and has become a prisoner of them. We root for him to get past his sins and mistakes, allowing the decent man who is in there to fully come to form.
The plot itself also may be challenging to the reader. It almost works inverse to most mysteries, with more understanding, facts, and truth leading to more ambiguity. It reflects the right and wrong of the streets becoming more abstract from what Frank and Calvin learn from one another. It also ties into our concern we have for Frank returning to drugs for the dark confusing world the case leads him through.
If Trigger's world is dark, it finds light in many of the characters, especially in its lead. His code provides an anchor for his soul on the rough, cold seas. He and others show that an ability to reach out to one another and share perspectives makes the streets easier to navigate. Frank Marr's life may be harrowing, but there is hope if he can trust others for help.