S.C. Perkins won the St. Martin's Malice domestic award for her debut Murder Once Removed. Her amateur sleuth Lucy Lancaster holds the profession of a genealogist, allowing her to touch many of the themes the mystery genre explores. In this first outing, Lucy contends with a murder in the past to solve one in the present and prevent another in the future.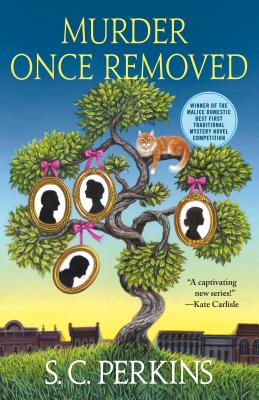 A wealthy senatorial candidate hires her to look into his family's history. The discovery of a daguerreotype and a journal leads Lucy to the possibility that one of his ancestors was murdered in 1849 by a relative of his opponent. When the friend and former employee of Lucy who was holding the daguerreotype is murdered and the picture is stolen, Lucy uses her skills to find the killer . Her search leads her into a conspiracy of land grabs, political assassination and old ghosts.
Perkins uses Lucy's profession to every advantage. She gives us great detail in how one traces ancestry and the actual art and science that is in involved. The skill plays beautifully into reoccurring themes of the mystery, such as identity and the effects of the past. Perkins also uses it to have fun with Texas mores and pride in ancestry. Lucy's bread and butter is a site called "How Texan Are You?"
Murder Once Removed is a debut that promises great potential for an amateur sleuth series. Lucy Lancaster proves to be a smart, believable and resourceful heroine. While far from  hard boiled, it avoids steps into being cozy cute. Plus her skill at genealogy allows us to believably take on many different trends in mystery fiction. I look forward to what sordid history Lucy will find in the future.