Matthew Turbeville: Lori, it is such an immense pleasure to interview you.  Each of your books holds a special place in my heart and deservedly so.  Each of your books is so uniquely and individually different.  How do you develop the concepts behind your novels? How do they come to you? And how do you ensure that not one single book is remotely the same?
Lori Roy: Thank you so much, Matthew. It's a pleasure to work with you on this interview. I have, thus far, always started my novels with setting. By that, I mean I am first inspired by an interest in a time and place. I'm not entirely sure what makes certain settings capture my attention, however they tend to be somewhat gritty and oppressive, and as such, they actively work against my characters.  I think of setting in terms of the part of the country I choose and the period of time. Both decisions are key to the obstacles my characters will face.   A rural and impoverished setting will pose certain challenges, as in Bent Road and Let Me Die in His Footsteps, and the cultural norms of a certain period of time will also give rise to obstacles, as in Until She Comes Home.
The settings, both place and time, largely dictate the voice or texture of whatever novel I'm working on. I fumble around until I find the voice I feel fits the work. There is also always a sliver of some universal truth that starts to simmer once I've begun a novel. However, I try to avoid focusing on that sliver as I'm writing.  Instead I focus on character and plot and let the sliver of truth work its way to the surface through the story. I spend a couple of years writing a novel and this sliver of truth is what keeps my interest.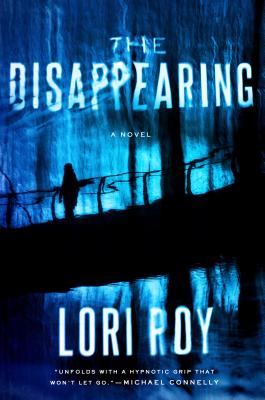 As to how I keep my books from being the same…in a way, like many writers, I think I'm always grappling with the same questions. But I do like switching up my setting because I am regularly inspired by my research of a new place. In my most recent novel, The Disappearing (Dutton 7/18), I am writing about the present day for the first time. While this would probably seem easier than writing something set in the past, I've found it to be a great challenge.
MT: You've won multiple Edgar Awards and you're a woman.  How does it feel to be one of the leaders in establishing crime fiction as a genre dominated by women writers, which is incredibly important in today's world?
LR: Having published a few books now, I think paying-it-forward is the most important thing I can do. I was fortunate enough to learn from great teachers in the early days of my career. Each of them took time out of his or her own busy schedule to work with aspiring writers, so I try to do the same. As to the amazing work being published by women today and in years past, I think of myself as a student of their impressive work.
MT:  Who are some of your other influences, especially fellow female writers? What other influences do you have—what inspires you to write on a day-to-day basis?
LR:   I would say the love of writing inspires me on a day-to-day basis, but that wouldn't be entirely true, because I don't always love it. I find the first draft of a novel very difficult to write and I impose a schedule on myself to get through this early stage.  Once I have the framework, I find the process much more enjoyable and sitting down to the computer becomes easier. As to influences, my list could go on and on. Flannery O'Connor is certainly at the top of that list, as are Toni Morrison, Zora Neale Hurston and John Steinbeck. Mary Lawson is among my contemporary influences, as are Lisa Unger, Megan Abbott, Alafair Burke and Laura Lippman.
MT: I would almost describe your latest book, Let Me Die in His Footsteps, as transgeneric, crossing genres in new and unexpected ways, like the novel does with its hints of magic realism.  What made you decide to incorporate this element of writing—i.e., the girls looking down the wells—into your novel?
LR: This is a great example of the setting influencing my characters. As I researched Kentucky, I came across a good many traditions and superstitions that originated in various parts of the state.  Many of the more magical elements of the book—the know-how, the looking into a well to see the face of an intended, the empty rocking chair that rocks and means someone is going to die—were all rooted in Kentucky superstitions passed down through the years, though I tweaked some to fit my characters and plot. Not only did these elements inform on the way people were thinking at the time, but they also gave rise to obstacles for my characters.  They became the heart of the novel in many ways.
MT: What is your writing schedule like? How do you remain so productive and churn out such breathtaking literature?
LR: I usually try to write first thing in the morning.  If I'm writing a first draft, I can work for about two to three hours per day and I try to generate 1500 during that time. Once I have a first draft and am rewriting, I work the better part of the day. Because I've not been successful with outlining, I find I do a great deal of restructuring and editing. This phase will go on a long time.  I take breaks to walk my dogs or go to the gym, but that's about it. I quit for the day around 5:00.
MT: One thing that strikes me about your writing is your voice.  Whether written in first or third person (which can often feel so personal one forgets it's not first person), the voice is unique and personal to the character the narrative is following.  How do you establish voice for each book?
LR: Finding the voice for a particular novel is a bit like tuning an instrument or trying to tune a station on an old-fashioned radio. I adjust a little here and little there until I hear the voice come into tune.  I like to read various things from whatever era I'm writing about, or if I'm writing in the present as I did with my upcoming novel and the one I'm working on now, I read about the history of a place.  It all informs on the present and on the characters and slowly that voice comes into tune. I'm also a believer that nouns are of great importance in establishing voice.
MT: You tend to write "period pieces" or "historical narratives," books set in a different time and place than what we're used to with crime fiction.  What inspires you to do this and what do you hope to accomplish in doing so?
LR: While doing research for Until She Comes Home, I stumbled across an essay written as an introduction to a cookbook published in 1954. It spoke of mothers struggling to raise children as extended families moved farther and farther away, and of mothers being bombarded by news from the radio and television and newspaper, and of no longer having the friendly butcher to rely on but instead a large, generic grocer, and of having more technology in the home that was meant to make life easier but instead meant more and more was expected of them. I read this passage to a group of friends who were sitting nearby as I was doing my reading, all of them mothers too, and they nodded their heads. Yes, isn't that true, they all said, and were shocked to hear I was reading about the obstacles facing mothers from 1954. I understood in that moment why I'm compelled to often write about the past.  While much has changed over the years, much has not. Writing about the past can illustrate that the struggles of long ago aren't so different than the struggles today and that we're not above repeating the same mistakes.
MT: Was it always your dream to become a writer? If not, how did you get into writing?
LR: When I was very young, I dreamed of being a writer but got no further than designing the cover art for a novel I never wrote. In college, I studied accounting and I worked as a tax accountant for many years.  When I decided to stay home with my children, I began to study writing. I worked for ten years before I sold Bent Road, my first novel.
MT: In today's challenging political climate, what do you expect your stories and characters—especially your incredible women characters—to say? What do you want people to take away from them?
LR: I would reflect back on my answer regarding why I write about the past. On one hand, I find myself writing about people with a powerful and innate need to belong. On the other hand, I write about those willing to cast aside the weaker among us for the sake of money, power or reputation. I've seen these themes rise up in all my work and though they've tended to rise up in plots that take place many years ago, we continue to see people desperate for a sense of belonging and those who would cast them aside in our headlines every day.
As to my expectations for what my stories and characters will say to the world…I had to think about the answer to this question for quite a while. In the end, I decided I have no expectations.  I work very hard to write authentic, warm-to-the-touch characters who are struggling to reach a goal. I give them something to want and something to need and then place obstacles in their path.  As they struggle to find their way, they are forced to make choices and those choices inform on what types of people they are.  What are they willing to do in order to succeed? What will they not do? By taking this approach, I find my stories end up with much to say, but I don't set out with any expectations.
MT: What has been your most challenging book to write to date? What book has been your favorite to write? How difficult was it to break into the writing industry?
LR: I'll start with my favorite book to write. That was certainly Bent Road. I say that because I wrote my first novel with no thought of publishing it. I wrote for the love of it. I didn't think about how it might be received or if it would be reviewed or if people would like it.  My most difficult book to write has been The Disappearing. I found it difficult for a few reasons.  It is my first book set in present day, and as such, I had a harder time tuning in the voice. It's also a novel inspired by actual events surrounding the closing of a boys' reform school that operated in north Florida for over 100 years. Though the novel doesn't take place at the school and instead takes place in the years immediately after its closing, it was important to me that I remained respectful to the people who suffered there as children.
As to breaking into the writing industry, I wasn't nearly as savvy as many aspiring writers are today. I thought very little about the publishing industry when I was writing what would become my debut novel.  Instead I was fortunate enough to study with great teachers and in doing so, I met other writers who have become great friends.  We worked together in writing groups over the internet, encouraged each other and challenged each other's work. All these things were important in helping me break into the industry because they helped me write a novel that captured the attention of an agent and then an editor.
MT: What are you working on now? What can we expect in your next novel?
LR: The Disappearing is my next novel and it will hit shelves in July, 2018. Here is a brief synopsis of what to expect.
When Lane Fielding fled north Florida after high school for the anonymity of New York City, she never thought she'd return. But twenty years later, this time leaving behind her cheating husband, that's exactly what she and her two daughters have done. Now Lane is tending bar, living under her parents' roof on the historic Fielding Plantation, and planning how to escape the crimes of her father–crimes that date back to his role as the director of a local boys' reform school. A role that some claim turned sinister.
Things take a turn when just six months after moving back to Florida, Lane's older daughter disappears. Lane initially fears a serial killer–like the one who traumatized north Florida in the 1970s–has again set his sights on her small town. Ten days earlier, a Florida State student disappeared, and ever since, everyone has been keeping a close eye on the town's girls. But when Lane's younger daughter admits to having made an odd new friend, Lane must consider that her older daughter's disappearance is payback for her father's crimes. Or perhaps for her own.
With reporters descending on the town, chaos reaching a fever pitch, and events taking increasingly surreal and sinister turns, Lane is faced with too many enemies and too little time to bring her daughter safely home.
MT: What advice can you give to new and aspiring writers? What about young women who are looking to make their way to the top just as you have done?
LR: I would refer back to what was most important in helping me break into the writing industry.  My best advice to aspiring writers, men or women, is to work on your craft and write the best book you can.  Nothing else will matter until you've done that.  Work in a writers' group and challenge yourself to help your fellow writers become better, stronger writers.  In working to become a better editor of others' work, you'll also become a better editor of your own work.  You'll learn the rules of the craft and why the rules are rules.  All these things will help you advance your work, and I believe this has to be the first step.
MT: Lori, thank you so much for allowing me to interview you.  It was such a delight being able to pick your brain.  I wish you nothing but luck in the rest of your career, and I can't wait to read your next book!
LR: Thanks to you, Matthew. I greatly appreciate the time you've spent with my work and with the thought you put into your questions.