Mercy River, Glen Erik Hamilton's third outing with ex-Army Ranger and ex (for the most part) thief Van Shaw, plays to his military background. When an army pal is charged for murder, a group of criminally bent rangers hold the evidence to clear him and will give it to Van if he helps them locate contraband that was taken from them. The book is topical with a moody, hard boiled attitude. Glen was kind enough to talk to us about it.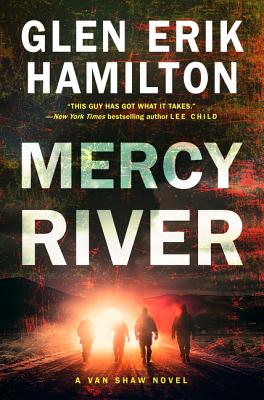 MysteryPeople Scott: With the previous books, you've mainly looked at Van's criminal past, what did you want to explore about his time in the military?
Glen Erik Hamilton: In Mercy River, Van is among hundreds of his fellow Special Ops veterans, and that offers a chance to show both how Van is similar to his brothers in arms – most notably in his unwavering dedication to protect people for whom he cares – and also how he's not your average Ranger, if there is such a thing.  That intense military training forged something unique out of the raw ore of Van's very unusual upbringing.
Specifically, readers get a view into some of Van's earliest experiences in the Army – the uncompromising selection process for the 75th Ranger Regiment and the leadership program of Ranger School.  These trials formed the foundation for his adult self, stepping away from the criminal perspective of his youth. They also established lifelong friendships, something that the solitary Van needed more than he knew.
MPS: You also took him out of his Seattle stomping ground and put him in a small town. Did that present any challenges?
GEH: Challenges and opportunities. Unlike Van's established haunts, I had to create the Oregon town of Mercy River and its surrounding Griffon County from scratch.  Which of course means I stole aspects liberally from real places. I visited mall towns (and ghost towns) and dramatic landscapes in sparsely populated counties like Wheeler and Wasco. People might have an image already in their mind when you say Seattle or Portland, but for more remote parts of Oregon, a writer needs to paint the picture of these beautiful and somewhat dangerous environs and provide some insight into a town struggling to survive.
The opportunities, of course, come from playing God as a fiction writer.  Take a gigantic rock formation here, an abandoned mine from there, unique features of the local towns, and mix and match. I get to place Van's adventures in the most striking locations imaginable. I also get to invent the history, politics, and law enforcement of the community of Mercy River, all of which play into the mystery Van must solve to save his friend.
As someone who has now lives away from your native Northwest, does it give you a different perspective when writing about it?
Absolutely – moving away from Seattle is what originally inspired me to write about it. The city has changed so dramatically in the past decade, it's hard to encompass all of its transformations. For example, the gap between the haves and have-nots has become a chasm, and large swaths of the city have been razed and rebuilt, for good or ill. I have to – slash – get to visit Seattle frequently just to try and keep a pulse on current events and the challenges facing the Puget Sound area.
MPS: The book deals with both white supremacists and opioids, two things that have been in the news a lot. Is there a responsibility an author has when dealing with current topics?
GEH: First and foremost, a thriller has to entertain.  But when my books involve subjects such as post-traumatic stress, or the opioid crisis, or the encroaching white nationalist movement, then I aim to use those story points as real matters in Van's world and not just buzzwords.  Van's fictional fight is grounded in our battles to conquer those very real horrors. And if I'm very fortunate, his endurance might offer readers hope for our own victory.
MPS: You have some excellent action and heist sequences in the book. What do you keep in mind when writing those parts?
GEH: Thank you! First and foremost, any action scene has to be very clear to the reader.* That means understanding the geography of location and characters, the immediate danger, and the intent the protagonist has at any given moment.  There are some rules of thumb: The faster the action, the slower the pace of the writing, and the shorter the sentences. It may seem counter-intuitive, but the writing will feel faster to readers, and action scenes are all about gut feelings.  If my pulse quickens when I'm re-reading a draft – and bear in mind I already know what's going to happen because I wrote the darn thing – then I'm on the right track.
*The exception to the "clarity" rule is when the protagonist's head is addled due to getting hit or getting doped.  That can be exciting too, as the hero or heroine scrambles to figure out what the heck is happening.
MPS: As a writer, what makes Van Shaw a character coming back to?
GEH: Van has experienced at least one full lifetime's worth of drama and action, but he's still a young man.  While he might never admit it to himself, a part of him did not expect to survive this long. Instinctively, Van approached his time in Special Operations with the mindset of a samurai, being prepared to die any day.  Now that he's out in the world he's having to learn skills that aren't just tactical in nature. For example, forming lasting relationships and being part of a family. He also has to wrestle with his purpose in life, given that what he's really good at – crime, violence, and ticking off dangerous people – often clash with the moral center he's trying very hard to hang onto.  That's a lot of fun for me to write. I learn new things about Van with every book, and hope readers enjoy his growth as much as I do.