Backflash is the second outing of Richard Stark's tough as nails robber Parker after his twenty year hiatus. After the few slightly more involved books before it, we get a bare bones, down and dirty heist novel. The simplicity proves refreshing.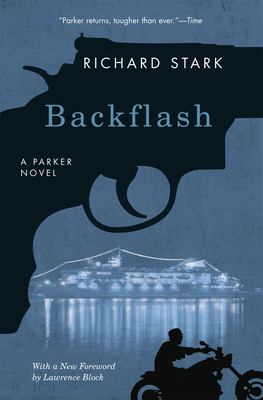 What makes the story unique is the target. We begin in vintage mid-action Stark fashion with Parker and his cohort Howell going off the road and crashing down a hill during a police chase. Parker goes against his cold blooded nature and leaves Howell pinned in the car for the police, instead of rubbing him out so he doesn't talk. He hears of his death, but soon gets a message from Howell, telling him to meet a man named Catham. Catham in a state bureaucrat with inside knowledge of a gambling boat that travels down the Hudson. He can give all the details about the boat for ten percent of the score. For Parker a travelling boat is a "cell", something hard to get in and out with the money and the small amount Catham is asking for makes him suspicious, yet he's compelled to bring in some folks from previous jobs and a river rat who knows the Hudson and pull off an elegant plan. A few surprises and some hardened bikers prove to get in the way.
Some readers found Backflash too formulaic, but that was part of the enjoyment for me. It took me back to the earlier books when Stark had just invented the formula. Watching Parker pull off a job like this is like watching a trained athlete pull of a feat with a high degree of difficulty, dealing with both foreseen and unseen circumstances. By sticking to the tried and true, the book moves smooth and fast.
Backflash may not be anything new under the sun, but it still shines bright. Even to this day, no one puts a thief through their paces like Richard Stark. Every bad man (fictional) should be so lucky.