Our Pick Of The Month, The Line That Held Us, is David Joy's third book to take place in his home of Jackson County, North Carolina. It concerns Calvin Hooper who helps his friend Darl Moody hide a body he accidentally shot. The body belongs to the brother of Dwayne Brewer, the county's most vicious criminal. What occurs is a tense thriller that also looks at family, friendship, and search for grace in a place that is going through a lot of changes after it seems to have changed little for over a hundred years. We got a chance to talk about the book with David Joy himself.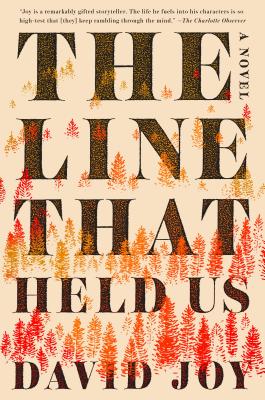 MysteryPeople Scott: As in all of your books, family plays a major part in the story. Dwayne is avenging his, and Calvin is trying to save his before it even gets started. What makes the dynamics rich subject matter for you?
David Joy: Maybe more than anything it's the idea of unconditional love that interests me. I think familial bonds, and deep-seated friendships that become familial, make for some of the richest ground to plow. People will do things that defy reason and that defy even their own morality to protect the ones they love. That's an interesting place to put a character. There's immediate conflict. There's this "I know I shouldn't do this but I'd do anything for you" kind of conflict. Any time you can create that kind of tension in a story you're going to have movement, and that's what a story has to do. It has to move.
MPS: Family seems to be a staple in Southern literature. Do you feel it has a special place in the culture?
DJ: That's definitely true about Southern literature, but I think the reality is that it's less a matter of the South or the North or the Midwest, and much more a matter of the rural nature of the setting. Family is an integral part of the rural identity. You could go anywhere in the country and if you get far enough out to places where people are largely isolated and seldom leave and that's all you have is family or families. Take the county where I live, Jackson County, North Carolina. You go back to the late 1800s when that county was formed and the names on that paper the Brysons and Hoopers and McKees and Dills and Fowlers and McCalls and Shulers and Greens and all these names, those names are the same names that are here now. That's the culture and place that I'm writing about. The work mirrors that reality.
MPS: Dwayne is such a great antagonist, in fact as the book continues he grows more into a counter-protagonist if there is such a thing. Is there any thing you have to keep in mind when writing for a character like him?
DJ: I think one of the scariest things that can happen with a "bad guy" is when they make perfect sense. When, as a reader, you find yourself nodding your head. There's this great moment in Larry Brown's novel Father And Son when one of the main characters, Glen, catches this giant fish that everyone had been trying to catch for years. Glen is a bad dude. He's come out of prison for killing someone. He's raped at least one woman that we know of. Anyway, he catches this huge fish and he has this moment where he could take it to town and show it off and for once in his life be a hero. Instead, he turns it loose. When they ask him why, the line is something like, "Because that fish never done nothing to me." Tom Franklin asked Larry about that scene once and he said Larry told him that even the worst people had moments of humanity. I think that's absolutely right and I think that's what you're getting at here. With Dwayne Brewer, I wanted his logic to make sense. I wanted readers to see him doing incredibly horrific things and somehow feel empathy toward those actions. He's some sort of balance between instinct and reason, between what we feel in our guts and what we think in our heads. At times, we all wash back and forth between those places and that's part of why characters like that resonate with us. I think he might be the character I'm most proud of. If nothing else, he's unforgettable.
MPS: In some ways Calvin is even more difficult to pull off. He's comes off as the friend you want to have and workmate you respect, but I never felt like we had to like or side with him. Is there a way you approach someone like that?
DJ: Calvin Hooper is really an indifferent character altogether, and maybe that's what you were responding to. He never struck me as a decision maker, as a leader. He reminds me of friends of mine who always wound up in the back of the car riding along to places they had no business going, with people they had no business being with. There were times, especially when I was younger, when I did the same thing. There were times I wound up in the back of a police car because I went along with something someone else wanted to do. Early on in the novel Calvin makes some pretty horrible decisions based on his love and commitment to his best friend, Darl Moody. After those decisions backfire and things go from bad to worse, there's this sort of detached reaction toward everything. It's like he just sort of removes himself and thinks if I just leave everything alone maybe it will settle. Well, of course things don't settle and one of the biggest conflicts in the book is Dwayne Brewer forcing Calvin to acknowledge what he values most and to make a decision based on that acknowledgement. In that way, I think Calvin shows a lot of growth as a character. There's that question Dwayne asks Calvin toward the end of the book, he asks, "For whom are you willing to lay down your life, friend? Outside of that there is nothing." I think that question lies at the heart of what this novel is about.
MPS: It seems like with each book, the outside world is closing in tighter on your character's communities, posing the same cultural threat to the area as gentrification does to cities. Do you see this as an ever-growing problem in real life?
DJ: When a lot of outsiders think about Appalachia, they imagine the coalfields of eastern Kentucky and West Virginia. Where I live, that's not our reality. I've said for a long time that unrestricted land development, tourism, rising land costs, and the resulting gentrification, that's our coal mining. A lot of people refuse to acknowledge tourism as an extractive economy, but it is. It's not as ugly on the surface as the timber industry was a century ago, or as coal mining was and is, but the result is the same. The result is the destruction of landscape and the displacement of people.
The jobs that are created from tourism-based economies are low paying jobs. What value there is is in the land. There are places here, entire coves, entire mountains, that have belonged to single families for hundreds of years. That land has been divvied up and divided over generations and nowadays its worth more than it ever has been. The thing about that value though is that it forces the hand. Sure you can sell the property to some out-of-state goon looking to build a second or third home that they can come visit for a few weeks out of the year and sure the money you're going to make on that acreage is more than you've ever had in your life, but there's no lateral move. You can sell the farm but it's not like you can drive down the road and scoop up another. There's no other place to go. Those places don't exist anymore. The family land is broken up and sold and the local people move away. I think we're looking at the very last remnants of this culture and these people. We're within a generation of their extinction.
MPS: All three of your books are stand alone novels. Are there any plans for a series, trilogy, or return to any of your surviving characters?
DJ: I'd never even heard that term "stand alone" until I had a book out. I don't know, I'd just never really thought about books like that. I didn't grow up reading series. I typically don't want to stick with characters that long. I like to jump around. I might read something Southern then jump into something South American. Sometimes I'll read nothing but poetry for months. I won't say I'd never write something like a trilogy, but the story would really have to warrant the structure. Other than that, my style lends itself more to individual books.
As far as my novels, I do like to throw anecdotes from earlier books into new ones, things that work whether you've read the other books or not. So for instance with The Weight Of This World, the time period when that book is set and what's happening with the methamphetamine culture is largely resulting from the end of the first novel, Where All Light Tends To Go. With The Line That Held Us there's mention of an event that happened in Weight Of This World. There's also a lawyer that shows up in Where All Light Tends To Go and The Line That Held Us. The book I'm working on, one of the main characters from The Weight Of This World appears and I don't know whether that will stick or not, but the point is that I do enjoy playing with things like that.
All of my books are set very specifically in Jackson County, North Carolina where I live and it's a small place. You get to know people here. It's the same names in the newspaper week in and week out. When things happen, you hear about them, and when things happen, especially big things, the stories root themselves into the landscape. Nothing is easily forgotten here and I want my books to mimic that reality.