William Boyle is steadily making a name for himself  in crime fiction. He looks at the working and criminal class of his native Brooklyn with both an unflinching and sympathetic eye. In his latest, A Friend Is A Gift You Give Yourself, he demonstrates his range with that talent.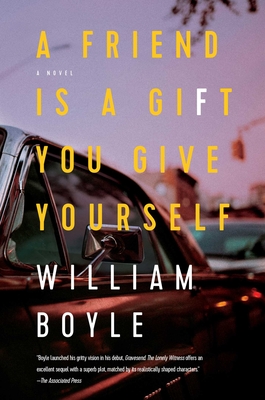 Rena Ruggerio, a mob widow of "Gentle" Vic Ruggerio, defends the advances of her elderly neighbor Enzio with an ash tray to the head. When he hits the floor and there's blood everywhere, she panics and takes off in Enzio's classic Impala to the Bronx where Angela, the daughter she hasn't seen since she discovered she was involved with Richie, Vic's right hand man. Angel turns her away but she meets up with her granddaughter, Lucia, at the house next door occupied by Wolfstein, a retired porn star who supplements her income scamming men. Lucia wants to live with Rena, because her mother is hooking up with Richie. Due to Richie's slaughter of several crime family members, an old mark showing up at Wolfstein's house, and a bag packed with mob money they end up with the three ladies hitting the road in the Imapala to Wolfstein's freind Mo in Florida with Richie and a killer named Crea behind them. Oh, and Enzio is still alive and wants his car back.
This book differs in some ways from Boyle's first two, Gravesend and The Lonely Witness, that both carried more somber tones. They showed the effect of isolation and how people become trapped in their lives and behavior. This story starts that way, with Rena contemplating how anything past her block is foreign to her. However when circumstances pull her with the brasher and more outgoing Wolfstein, she sees a larger world and place for her in it. Boyle tells a believable story of connection, particularly the female variety, and the give and take that plays out in it.
There are a lot more laugh out loud moments than you may be used to in Boyle's work, but the humor services the characters instead of the other way around, which often happens in books of this type. In fact there is a touch of melancholy to some of it as is Rena and Wolfstein choose to laugh instead of cry at what is dealt to them. These women refuse to be punchlines and he respects that.
A Friend Is A Gift You Give Yourself  is a look at female friendship up against the worst men can produce. It's funny, thrilling, and scary at times. Boyle may have broadened his canvas, yet keeps that tone grounded and his characters real. If this one won't get you to love him, I don't know what will.