There are few authors who push themselves like Megan Abbott. In doing so, she has expanded noir as well, demonstrating the elasticity of the genre. She has blazed a trail from seedy bars  and back allies to suburban homes and high school gymnasiums. In her latest, Give Me Your Hand, she proves science can be full of sin.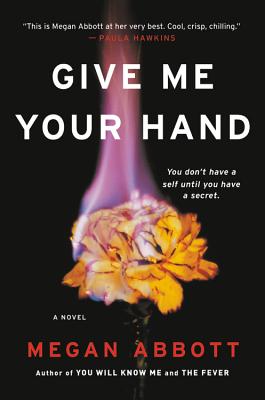 The book centers on the relationship of two scientists. Kit Owens toils as a researcher for the prominent Dr. Severin. She is in the running to be part of Severin's team for a prominent study of premenstrual dysphoric disorder. Her chances are good, until Severin unknowingly brings in someone from the darkest part of Kit's past.
Diane Fleming moved to Kit's high school with whispers of her past and possessing the kind of discipline and drive Kit lacked at the time. Their friendship drove the other to be their best, physically and mentally. Abbott is able to describe their relationship with nuance and subtleties to portray something much deeper than competitiveness. The bond becomes severed when Diane shares a dark secret with Kit, not as much for the revelation itself but the fact that Kit is burdened to hold it. Now that Diane has returned to her life in this manner, the secret becomes even heavier.
Abbott deftly uses that secret as the centerpiece of the book. It drives the front part of the narrative with the story building tension by the withholding of it and juxtaposing Kit and Diane's teen years with their reunion. Both the timing and the subject turn the reveal into a well executed bomb. The rest of the book's suspense come from where and how hard the fragments crash after the explosion.
The lab setting would seem less fitting for noir, but Abbott uses the world to her advantage. The competition of the study sets up subtle back-biting that could lead to back stabbing, A certain job involving an incinerator comes in handy. The antiseptic environment makes for an interesting contrast to the messy emotions that play out in the harsh sterile light.
With Give Me Your Hand Megan Abbott ratchets the tension at page one and never stops as she delves into female friendship, different forms of sexism in science, and ambition. While seated deep in noir, it never goes for the obvious tropes. Once again, she takes the genre on her her own terms and takes no prisoners.
Make sure you're here July 24th at 7pm when Megan is here to discuss the book along with Ace Atkins.