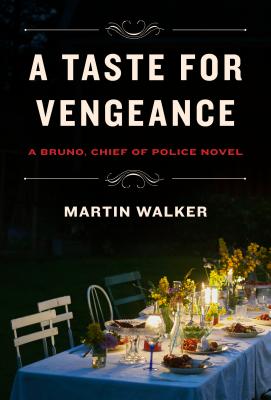 It's impossible to talk about Martin Walker's Bruno, Chief of Police mystery series without talking about food and wine. (And it's equally impossible to read the books without getting hungry!) Set in the Perigord region of France, the novels describe the local culinary traditions in great detail and Bruno's love of good food and fine wine are integral themes of the book.  From his morning croissant to an evening meal featuring copious amounts of duck fat and a few glasses of the local wine, Bruno is a true connoisseur of all that the local farmers have to offer. He's also deeply invested in the friendships he's formed, volunteering with local youth and organizing dinners with friends who might not otherwise get to see each other. The Perigord is a region steeped in history (it's been continually occupied for some 70,000 years) and Walker brings the abundant cultural and comestible traditions to vibrant life.
But don't be deceived by the seemingly bucolic setting—Walker's novels aren't cozies by any means, they're intricately plotted works teeming with political and international intrigue.
In A Taste for Vengeance, Bruno is adjusting to his new role—instead of being responsible only for the town of St. Denis, his territory will now cover the entire valley and a couple of other jurisdictions. He must navigate a new chain of command while not alienating former peers who now report to him—a delicate balancing act for the modest Bruno.
A friend asks Bruno if he can find out why one of her cooking school students, German tourist Monika Felder, didn't show up as planned; his investigation reveals that the woman had been travelling with someone other than her husband, a mysterious Irishman presumed to be her lover. When the two turn up dead, the investigation deepens and Bruno learns that the Irishman was operating under an assumed identity and had not only a background in intelligence but also a military connection to Monika's husband.
Meanwhile, Bruno learns that the star member of the youth rugby team he mentors is pregnant—a development he perceives as potentially catastrophic on the eve of her possible nomination to the national squad.
As always, Walker weaves these disparate plot elements together seamlessly and the reader is treated to a riveting and complex tale of crime while gaining insight into Bruno's rich and varied personal life.