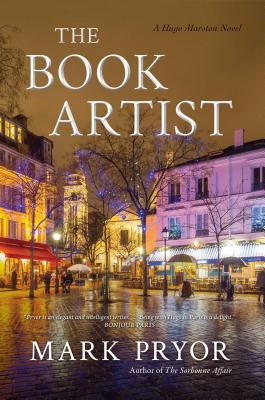 Mark Pryor will join us at BookPeople on Saturday, February 9th at 6pm to discuss The Book Artist. Check out our review and join us! 
All of us at MysteryPeople are huge fans of Mark Pryor's Hugo Marston series and we agree that his latest—The Book Artist—is the best one yet.
Hugo Marston is a former FBI profiler who works as head of security at the US Embassy in Paris. The book takes its title from the opening scenes when Hugo's boss, Ambassador Bradford J. Taylor, strongly encourages Hugo to attend an art exhibition at the Dali Museum. Hugo is initially reluctant–art isn't really his thing, he's more of a bibliophile–but he's drawn to the exhibition when he learns that it involves sculptures created from rare books. (The fact that the artist is an "indescribably beautiful" young woman doesn't hurt either.) When a museum guest is brutally murdered, Hugo jumps to help the police find the killer. And when they arrest someone Hugo believes is most certainly not the killer, he feels an even deeper urgency to bring the real culprit to justice.
Meanwhile, Hugo's best friend Tom is getting himself into a spot of trouble in Amsterdam. In their former lives, Hugo and Tom were responsible for sending a man to prison. That man has been released, and Tom believes he may have traveled to Europe to seek revenge. As the pursuit unfolds, the avid Hugo fan finally learns some hidden truths about Hugo and Tom's shared past.
It's difficult to delve much further without divulging any spoilers, because there is one twist after another in The Book Artist. Pryor seamlessly weaves the disparate plot lines together, and his voice demonstrates a new level of assuredness.
Pryor's characters have become old friends to this series devotee, and the long-time friendship between Hugo and Tom is just so much fun to witness. The hard-drinking, womanizing Tom is the perfect foil to the more serious and straight-laced Hugo. Underneath Tom's relentless teasing one can sense his deep admiration and love for Hugo, and the affection runs both ways. In The Book Artist we finally get a glimpse into their shared past and learn how they ended up leaving their former employers.
And any discussion about the series has to include the setting. Pryor clearly loves Paris, and his detailed descriptions of the neighborhoods, the restaurants, and the people makes the reader feel greatly tempted to hit up Expedia for the next jet to the City of Light. If your budget won't allow for that, at least pick up a croissant and fix yourself a café au lait to enjoy while you delve into The Book Artist!