An Interview With Nelson DeMille About His New Book, The Cuban Affair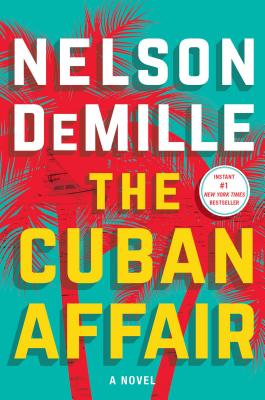 With his new novel, The Cuban Affair, Nelson Demille has written a new stand-alone novel with a new character, Daniel "Mac" MacCormick, a former Army combat veteran who is now a charter boat captain
As the title suggests this new novel is about a trip to Cuba. MacCormick is hired to help people get to Cuba to find $60 million hidden there.
Nelson, who has also written under the pen names, Jack Cannon, Kurt Ladner, Ellen Kay and Brad Matthews, has written a number of series along with some stand-alone books
Nelson agreed to let me interview him via email. The final two questions in the interview are from Barry Lancet, who I recently interviewed here. 
Scott: Why did you decide to write a standalone, one with a new main character? Is it related to being with a new publisher?
Nelson: I had two reasons for writing a standalone with a new character.  The first was to give my readers a break from John Corey, and the second was to give me a break from John Corey.  I like John – he pays the bills – but I didn't want us to get tired of each other.  Also, my new publisher, Simon & Schuster, wanted to start fresh, and I agreed.  Corey may be coming back, but not for my book after The Cuban Affair.
Scott: When you do a standalone versus a series book, do you risk losing those who preferred earlier series and protagonist?
Nelson: Good question.  In most cases, when a bestselling author deviates from his bestselling protagonist there is a drop-off in sales.  Readers start to link the author with the series character, especially if the author hasn't done much else.  In my case, though, I began my career with successful standalones and I hope that readers who've read those standalones will trust me to give them a great read.
Scott: Can you talk about how you did research for this book, including with the Yale Educational Trip?
Nelson: I do a lot of research for all my books, which is why I don't write a book a year.  I tend to do most of my research as I'm writing because you don't know what you need to know until you need to know it.  My preliminary research on The Cuban Affair consisted of reading the Lonely Planet guide to Cuba.  Then I went to Cuba in October 2015 and took notes and pictures and spoke to Cubans.  Research almost always gives me ideas for the plot and storyline and even ideas about the characters.  The truth that you discover is always stranger and more interesting than anything you can imagine.
Scott: Were you planning a book involving Cuba when you made that trip?
Nelson: If the IRS is asking, then yes, this was a tax deductible research trip, not a vacation.  Actually, I was thinking about a book set in Cuba and, coincidentally, I received a travel brochure from Yale in the mail, and I took this as a sign that Cuba should be the topic for my next book.
Scott: What do you think of the changes Trump is making to reverse some of the changes made under Obama?
Nelson: I will stick my neck out and say that Trump was right to reverse some of the easing of travel restrictions that Obama made.  Obama, I believe, did the right thing in easing the restrictions that he could without Congressional approval, but he didn't get much in return from the Castro regime in regard to human rights for the Cuban people.  This is a complex issue, and somewhere between the hardliners and the people who want to normalize relations is a fine line that has to be walked carefully and slowly.  Ultimately, the Cuban people have to solve their own problems.  They, more than Americans, have the most to gain – and the most to lose.
Scott: What do you hope readers will take away from this book?
Nelson: I hope the reader comes away with an understanding of the long and complex historical connections between Cuba and America.  As it stands now, our relations with Cuba are a Cold War legacy, and a sort of time-warp that needs to come into the 21st Century.  Generals are often accused of fighting the last war, but diplomats have even longer historical memories that impede their future thinking.
Barry/Scott: You have a new lead character for The Cuban Affair, which is great, but speaking of great characters, are you ever going to bring back Sam "Haul Ass" Hollis from The Charm School, and can we expect a fourth outing from Paul Brenner?
Nelson: Interesting question.  My writing career has spanned almost 40 years and some of my past characters are starting to age a bit.  Colonel Sam Hollis would be pushing 70 by now and Paul Brenner may be a bit older.  Both characters were unique to their time periods and might now be irrelevant or too old for a new adventure set in the present.  John Corey too is getting on in years.  Chronology is always a problem for a writer who creates a series character.  Agatha Christie's Hercule Poirot, for instance, was about 103 years old when he (and she) died in 1976, according to the New York Times.  But…it's possible to bring these guys back in a period piece, or maybe a prequel.
Barry/Scott: Your writing school spans 39 years and counting.  You've bucked the industry standard of a book a year, kept up the quality of your work, and seem to be going as strong as ever.  What writing or other practices have allowed you to sustain your career?
Nelson: I like this question.  Yes, I refuse to pump out a book a year like crap through a goose.  A good book takes a long time to write.  Up to about the 1980s, most novelists published a book every two or three years, and often longer than that.  What changed was that the publishing industry realized that a book a year could be profitable, and a lot of bestselling authors were willing to accommodate that for their own bottom line. Manuscripts used to be logistically difficult to produce on manual and even electric typewriters with carbon paper or photostatted copies, not to mention white out fluid, cut and paste, and having to retype entire pages and chapters.  Research, too, took a long time.  The computer and word processing changed all that and sped up the process of producing a clean manuscript and doing the research instantly online.  None of that improved the quality of the writing, or the thought and imagination required to tell a good story.  In fact, technology may have had the opposite effect.  Spell check is great, but if the words are wrong, it doesn't matter if they're spelled right.
I write the first two or three drafts of my manuscripts in long hand with a #1 pencil on legal pads.  This slows the process and allows me to think as I write.  Then I do two or three drafts on the computer.  Also, I still do most of my research by traveling, doing interviews, and wading through books.  Too many writers are hooked on Wikipedia and it shows.  With books, you have serendipitous discoveries that you won't get in a Wiki article.
I try to balance my life and writing, and I try to live some of the life experiences that I write about.  If you're locked in a writing room all day trying to churn out a book a year you can't observe the human condition and you start to lose touch with the evolving language and the rapidly-changing social and political conditions that should inform contemporary fiction.
Bottom line, it takes me 16-20 months to produce a completed manuscript.  Each book, I hope, is as polished and as good as it can be for me and for the reader.
What I never want to see from an editor (or a reader) is that, perhaps apocryphal, note "Your novel is both good and original; unfortunately, what is good is not original, and what is original is not good."