Our June Pick Of The Month,
Conviction
by Denise Mina, appears to be something of a departure for the author. A road trip thriller with Anna, a dumped trophy wife with a secret past, trying to solve the murder that an old acquaintance is suspected of in a podcast, joined by Finn, an anorexic former pop star. The book is 
both
 funny an suspenseful with a light poignancy that sneaks up on you. Denise was kind enough to talk about the book and showing another side to herself as an author.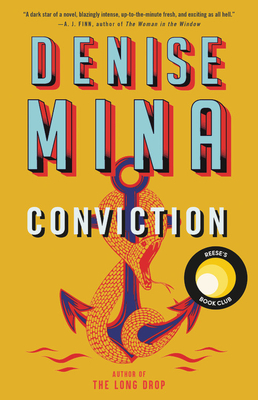 1. While you're never one to repeat yourself, Conviction, on the surface, reads as a very different kind of thriller for you. How did it come about?
My last book The Long Drop was about the stories we tell about ourselves. This book was to be a companion to that, a book  about the joy of being told stories. Because of that it reads very differently, as a series of story styles and tropes and conventions so I think it feel very different in tone and texture. 
2. Did writing about a protagonist who is keeping a secret while unraveling a secret present any challenge?
Tons! I had an opening chapter that I was very attached to and it set the scene for the big reveal in the middle and my editors said 'cut it' but I was a very attached to it! Anyway, I cut it and to my eternal annoyance they were right.
3. Finn becomes such a wonderful sidekick for her, funny yet very human and tragic. How did he come into creation?
When Bowie died I didn't recognize him from the discussion about him. He was catastrophically thin in Berlin, he was clearly quite broke a lot of his life, he got ripped off. I didn't see any of those times talked about and I 
4. 

Podcasts

 play a huge role in the story. What did you want to explore with that media?
The return to oral story telling is fascinating. Literature has very rigid conventions and I love the rambling way 
podcasts
 can challenge that. I'm obsessed with true crime 
podcasts
.
5. I believe this is your first book where the characters travel outside of Glasgow. Did that effect the writing in any way? 
Actually, interestingly a lot of people have said that but a lot of Exile is set in South London and End of the Wasp Season is in Perth and Kent. This is a road book though, the whole point of it is that they're on the move and their essential selves come out. I found it hard not to over write the scenes because they go everywhere I've been on holiday in the last eight years. I felt very relaxed.
6.We know you can use humor, particularly Paddy 

Meehan

 series, but this book has the most laugh out loud moments in this book and you use it in several it in several ways. What about this story allowed you to be this funny?
It was such a dark story that it had to be funny. As a reader I can only take so much misery before I think  ' Oh honey, Ive got my own problems' and put a book down.