The return of Lydia Chin and Bill Smith is great news to many private eye fans. Lydia, a first generation Chinese American, and Bill, a former Navy man, operate out of New York, trading off points of view with each book. The unique pairing allows them to travel through many of the sub genres and crime and detective fiction. Now after close to a decade long hiatus, the two are back in Paper Son, a novel that drops them in a different environment.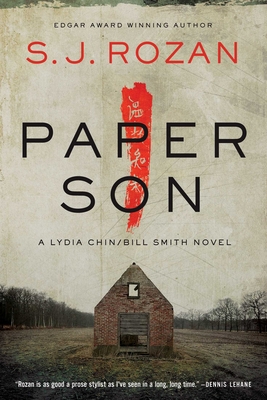 Lydia's mother, who has never been proud of her profession, shocks her by telling her she needs to help a family member Jefferson Tam, arrested for killing his father. She's even more surprised when she learns she has relatives in Mississippi. Her mother insists she take "the white baboon", so Bill tags along.
They are met by Lydia's uncle, Captain Pete, a professional gambler who definitely looks like a relative of Lydia's, but who could out southern Strother Martin. Pete acts as a guide through the territory and Mississippi Chinese culture. When he takes them to the grocery store Jefferson runs with his father, they find it ransacked. Soon they get word Jefferson has broken out of jail.
The book is an exquisite work of craftsmanship dealing out two different kinds of information. A seasoned pro in the genre like Rozan can lay down the clues, misdirections , and piece meal dirt with an organic ease moving the plot forward at an ever accelerating pace. Here she gives us a southern potboiler involving on line gambling, meth dealers, race, and politics. She also unearths a little known part of Chinese American life in the delta and their place in the state's economics and racial tensions, facts that become as intriguing as the fiction they are presented in. She skillfully dovetails both in a climax involving where the story gets it's title.
Paper Son provides a wonderful return for Bill and Lydia, ranking as one of the best in the series. The banter between the two of them is like comfort food with a Chinese barbecue rub provided by Captain Pete's interjections. It also serves the function that a great mystery can take you into another culture. Welcome back, you two.