The American West has returned as a hot spot for crime fiction. Revived by the likes of Craig Johnson and C.J. Box, sheriffs now square off with meth dealers instead of train robbers, instead of the cavalry, Indians fight crime and politics of the reservation, and a game warden can become an unlikely hero, fusing modern crime fiction with the classic western. David Corbett swaggers into this territory with the fresh and inventive The Long-Lost Love Letters of Doc Holliday.Join us this evening, August 27th, at 7pm to hear Corbett speak about the book.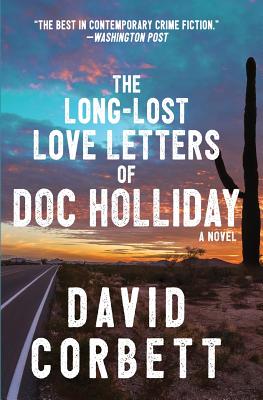 He gives us a unique protagonist in Tuck Mercer, a former rodeo rider and western art forger who became a western artifact appraiser after a stint in prison. The man is Sam Elliot with a touch of slick salesman thrown in. His time for a big payoff occurs when he comes into possession of the correspondences between the infamous gunfighter Doc Holliday and his sweetheart Mattie. He enlists Lisa Ballermo, and arts attorney with a crush on him, to sell them. News of the letters comes to a shady judge who will do anything to get his hands on them, including the use of a local militia group. Soon there is enough gunfire to give Tombstone in the 1880s a run for its money.
Corbett studies several facets of the west. Tuck and Maria have to maneuver through the neuvo-rich who both live and profit from cowboy fantasies, as they search for a buyer. They also encounter the sons of the pioneers who have lived there for generations living the values the history has instilled in them. Others have twisted those values like other terrorists have done with the Qur'an, and turned them into something xenophobic and bullying. He frames all of it by weaving in the correspondences between Doc and Mattie, creating an elegant counterpoint of the old west to the raucous new one.
The Long Lost Love Letters of Doc Holliday uses it's story and characters to paint a vivid landscape of the American west. Corbett melds action thriller, courtroom drama, and Elmore Leonard-style crime novel to explore the territory that defines our culture and how we define it with legend, lore, and fact colliding together. Thank God a literary prospector like David Corbett was the one to come along and mine it.