Martin Walker's character Bruno, Chief of Police, is a perennially popular figure in crime fiction. We look forward to each new book, and since Taste for Vengeance is just out, we got to talk with Martin about his inspiration, his writing, and Bruno. If you missed our event with Walker, you can buy signed copies of Taste for Vengeance in our store or on our website.
MysteryPeople Meike: You have an extensive background in journalism.  How and why did you make the transition to fiction?
Martin Walker: I was so entranced by the prehistoric cave art that I felt compelled to write about the kind of ancient society that could have produced such masterpieces and wrote 'The Caves of Perigord.' (2002) But that wasn't enough. I wanted to write about the place now, its lifestyle and the its food and wine and the way the history weaves its way into everything so I began to write the Bruno tales.
MPM: You're originall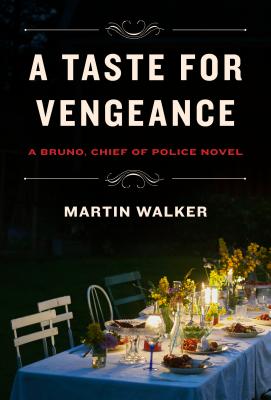 y from the UK but now you split your time between Washington DC and the Perigord region of France, which is where the Bruno series is set.  What was it about that region that drew you in originally and what do you love most about it?
MW: At first it was the landscape and the food and wine and the sweetness of life there, but soon I became fascinated with the history and prehistory of the Perigord, the extraordinary work of the cave painters at Lascaux 18,000 years ago. Visiting the 25 painted caves and the hundred-plus caves with engravings, one can never again think of these people as primitive. Their artistic sensibility is instantly and movingly familiar to us.
MPM: What is the biggest misconception that Americans have about France and its people?
MW: That they behaved pitifully in World War Two. I have learned enough about the Resistance to know better. And never forget that under Napoleon, they took Moscow – something Hitler's Wehrmacht never achieved.
MPM: Food is an important theme in the Bruno stories, and in addition to being a celebrated writer you have received recognition for your knowledge of foie gras and wine.  Can you tell us a little about those honors?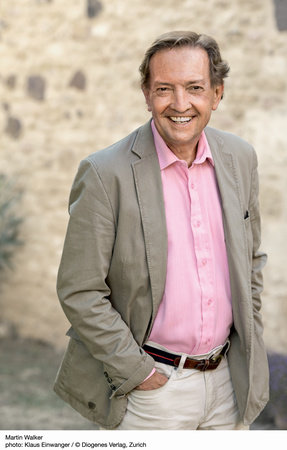 MW: I was elected a chevalier of foie gras by the regional confrerie, which brings together producers, vendors and gastronomes and we run the annual competition to find the best. And I was elected a Grand Consul de la Vinee de Bergerac (founded 1254) by the other Consuls, people in the wine trade, so I began making my own wine, Cuvee Bruno, with friends in the region. I chair the jury of the Prix Rageneau, the regional cookery prize, and Bruno's Kochbuch,' which I wrote with my wife for the German market, was awarded by Gourmand International the prize of 'world's best French cookbook' of the year in 2016.
MPM: Food and wine are an integral part of your novels, and indeed an integral part of French culture. What led you to explore the cuisine so fully in your novels? What can we Americans learn from the French in our approach to food?
MW: We all have to eat so we might as well take time to enjoy it and make a ceremony of necessity. It is also a sacrament of community; there are few greater pleasures than dining with old friends and pleasing them with your cooking, even more when the fruit and vegetables come from your own garden. The key is to take your time: think about food, find the best sand freshest ingredients, plan your meal and the wines. And remember the old saying that a Frenchwoman takes greater care in choosing her cheesemonger than in choosing her lovers.
MPM: Can you describe your "dream" dinner?  Who would you invite, and what would you prepare?
MW: If it's summer and we're eating in the open air, I'd make my own version of gazpacho from the garden, then fresh trout from the river, grilled with lemon slices, then aiguillettes of duck cooked in honey and mustard seeds and served with pommes de terre Sarladaise, with garlic and parsley and a truffle grated over the potatoes at the table, just before serving. Then cheese and salad and finish with a tarte au citron to echo the lemons with the fish. For the first two courses I'd serve a Cuvee Quercus dry white Bergerac from Pierre Desmartis and then for the duck a Tour des Verdots red from David Fourtout.
MPM: Bruno has a penchant for falling for strong, independent women thus he's still the most eligible bachelor in the area–will we see him settle down any time soon?
MW: Who knows? He hasn't told me yet. I keep trying to set him up with interesting new women but Isabelle keeps hauling him back. I learned when I tried to have him seduced by a wicked femme fatale (and he refused) that he has a mind of his own and sometime won't follow the plan. It's interesting; he's more real to me than some of my friends.
MPM: Bruno is a marvelously nuanced character–a decorated war hero yet a gentle soul who doesn't like to carry a gun, volunteers with local youth, and devotes tremendous time and effort to organizing elaborate meals with his friends. What was the inspiration for Bruno and what is it about him that keeps drawing you back to his story?
MW: The inspiration was my village policeman in France, who may be old and fatter than Bruno and has a wife and family, but the skills and character traits are there. He's also my tennis partner.
MPM: Can you tell us a little about your writing process?
MW: Once I have the book planned, chapter by chapter and the research and character notes complete, I start to write and set myself a firm target of producing a minimum of 1,000 words a day, wherever I am and whatever else I'm doing. For an old journalist, that isn't difficult.
MPM: What advice do you have for aspiring authors?
MW: Write every day, read what you write aloud to yourself and never stop for the day at the end of a chapter, nor even at the end of a paragraph. It makes it much easier to start again tomorrow.