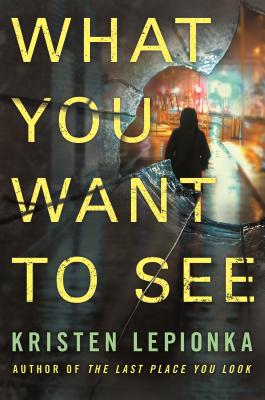 Kristen Lepionka got the attention of peers, critics, and readers with her debut novel, The Last Place You Look. The book introduced Roxane Weary, a trainwreck of a private eye, operating out of Ohio. She skillfully delivered a fresh PI plot with a complex lead. Her follow up What You Want To See, proves that could be her trademark.
Roxane takes a job following a fiance who might be cheating. When the client's check bounces, she drops the case. Soon the client is the main suspect in murdering the woman, mainly due from an argument they had when he discovered she was bilking him. To clear his name, Roxane searches into the victim's criminal past, discovering a real estate swindle that literally hits close to home.
Lepionka skillfully weaves plot and character together. An admirable trait of Roxane"s is that she develops a bond with her clients. She isn't just trying to get justice, but wishes to restore their lives. Part of this is tied to the fear of not wanting to be like her domineering father who passed away. Lepionka has made it a strong part of Roxane's core, making it believable for her to put her at risk, both physically and emotionally.
Both books deftly weave Roxane's relationship through both books. In What You Want To See, the plot focuses in on the complex relationship she has with her, driven by the pity Roxane has for her. The understanding she gets out of the situation is slight, but no less profound. If this all sounds touchy-feely, know there are a lot of shots fired.
With two books Kristen Lepionka has established herself as one of the major new voices of private eye fiction. She created a character that we root for not only to find the culprit, but to get a clue about what a decent person she really is. I can't wait for the next step of her journey.