Scott reviews Blood Standard ahead of Laird Barron's visit to the store on Friday, June 1st at 7pm.
Laird Barron, an author mainly known for his horror and weird fiction, has only has dabbled with crime fiction in the past. He has written a novella and a handful of short stories that work as tributes to hard boiled fiction. In Blood Standard, he charges into the genre, guns blazing.
He gives us a great hard boiled protagonist is Isiah Coldridge, a Moana working as a mob enforcer in Alaska.  When a situation over a walrus causes him to high tail it back down to the lower forty-eight, he lays low at a horse farm in upstate New York. Soon the owners' troubled granddaughter goes missing, and Coldridge sets out to find her along with another hired hand with a violent past due to his time in Afghanistan. His questioning and punching leads him further and further into a dark underworld the girl is trapped in.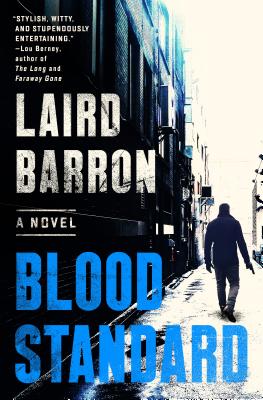 Barron proves to be an apparent fan of the genre. Coldridge is cut from the same cloth of David Rabe's Daniel Port and Dan Lewis' Jack Carter. The style is terse and straight forward and the world uncompromising. There are few chapters void of an action sequence of some sort.
However, his background in horror allows him to give a special spin on the tale. He injects the anything can happen quality of a horror story, grounding it in a more physical, though still fantastic, world of hard boiled. It places both Coldridge and the reader on less solid footing and allows us to buy into the darker reveals.
Blood Standard proves to be a must read for hard boiled fans, told in a way that would make Hammett proud. Isiah Coldridge is a tough guy with his own voice and several directions to go. I hope Laird Barron more time on this side of the playground.