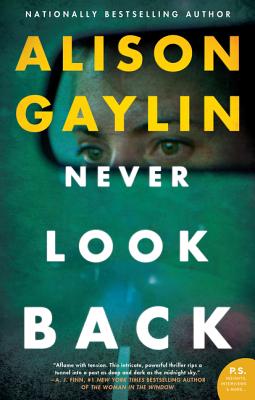 Alison Gaylin's latest thriller to deal with family, media, and murder, Never Look Back, centers on the the crime spree by two young people dubbed thrill killers in the seventies, Gabriel LeRoy and April cooper, and the effects of their crimes on the present. Quentin Garrison, whose aunt was murdered by them, is doing a podcast about the two. His research leads to the possibility that April may still be alive under a different name. His investigating leads him to Robin Diamond, April's possible daughter. Not soon after he gives Robin the news, someone breaks in and attacks her parents, leading to an unraveling of dark secrets. Alison is a good friend and I'll be interviewing her at BookPeople July 15th. She was kind enough to take some early questions from me though.
The story of Never Look Back is a mix of Charles Starkweather and Caril Ann Fugate, Branch Dividian, pop and podcast culture. How did it come about? 
I've always been fascinated by the Starkweather murders, mainly because it seems to me that Caril Ann Fugate was so clearly a kidnapping victim, yet she was tried and convicted—at barely 15—as an accessory to murder. I wanted to explore this type of destructive, consuming relationship, though I couldn't make April the way I perceive Caril to have been—a true victim in every sense. I wanted to create somebody who was a bit more of a survivor, someone a little more empowered by the hate she feels for the man who abducts her, someone who changes drastically with each murder. There's definitely a Branch Dividian element to the Gideons too—that's a great observation on your part. I think with all of these other elements in the book, it's just the case of me writing about things that I'm obsessed with. As you know, I've always been obsessed with pop culture, and I really, really love so many of these true crime podcasts—particularly the very personal way in which so many of the stories are told.
What spurred the devise of April's story by her writing the journal for her future child?
I had initially thought about making those entries diary entries, but one of April's most telling qualities is that she sees herself as motherly and longs to be a mother. She has these protective, maternal feelings for her little sister, and I feel like the person she would find it easiest to talk to wouldn't be herself (as in a journal/diary.) It would be her future child. I think she sees her future child as her ultimate confidante. I also liked starting it off as a school assignment. It intrigued me, the idea of this young girl trying to focus on a school assignment as her entire life has been pulled out from under her.
This is the third book in a row where examining the media is part of the book. What about that subject draws you to it?
I have my masters in journalism and have been a magazine writer for years. So, in a way, for me getting into the head of a journalist is "writing what you know." I also have long been fascinated by the way things like magazines, TV news, social media and more recently podcasts relay "facts"—how these media are often the most subjective and unreliable of narrators.
You have an odd structure that works where one protagonist sort of hands the story off to another. How did you deal with that challenge?
I realized that the story is equal parts Quentin's, Robin's and April's. (with a few others thrown in for reasons that are spoilers.) I like choosing the point of view of a character who has the most at stake, and in this story, it's definitely these three. I initially began telling the story from Robin's point of view, and then went back in time a little bit when I switched over to Quentin. But then I realized that the story is already so complicated, it made a lot more sense to give it a simpler, more linear structure. That meant starting off from Quentin's point of view.
I was happy to see Brenna Spector pop in a cameo. Ever plan to use her again in the future?
I'm glad you liked seeing Brenna! I was happy to be able to include her and Nick Morasco, and I definitely will continue to do that when my setting allows. I keep thinking I want to pick up on Brenna's story, but these standalone ideas keep coming to me!

What other authors would you recommend to fans of your work?
There are so many great psychological suspense authors out there that everyone knows about, but as far as someone who might like me wanting to find someone new, I just started reading a new book called No Bad Deed by Heather Chavez—I think it comes out early next year. I am really finding it very suspenseful and love the family relationships she explores.