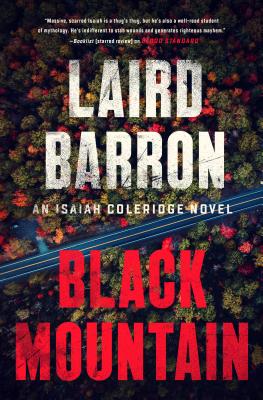 Last year Laird Barron introduced us to Isaiah Coleridge, a former mob enforcer, doing his best to go straight and be a hero in the series debut, Blood Standard. In the follow up, Black Mountain, Coleridge has set himself up as a P.I. and is hired by his old bosses to track down a vicious killer that leads to a mountain research facility and a lot of dark secrets. Laird will be here to discuss Black Mountain Thursday, May 8th at 7PM on BookPeople's second floor. We were able to get some questions in ahead of time.
1. This is the first time you've taken on a series character. Did you notice any difference writing the next chapter in someone's story?
I've written recurring characters in my horror stories, especially pro final girl, Jessica Mace. Her adventures are more episodic, so yes, working with Coleridge takes me into different territory. I envision the novels as chapters of his saga. Each tells a complete story, but the overarching narrative continues. There's a certain comfort (even amidst the darkness and trauma that Coleridge endures) in returning to the familiar. It's also intriguing to realize that if you keep digging, the "familiar" will change into something else entirely.
2. What has series character allowed you to do?
I'm pretty much doing what I've always done in terms of storytelling. The scale is much larger. I'm working on the third book in the series to hand in this fall. That's roughly a quarter million words spent inside the head of one character. It allows me to peel Coleridge, his associates, and the universe he inhabits like an onion.
3. How has Isaiah changed from Blood Standard?
Coleridge went through the fire as a kid. Adversity forged him into a phenomenally strong and tough individual. He's near the height of his powers in Blood Standard. But times are changing, as Black Mountain and its follow-up will demonstrate. All those broken bones, concussions, and impromptu blood donations have exacted a toll that becomes more apparent by the day. His shooting hand isn't as steady. He's lost half a step. And he's beginning to run into younger, deadlier opponents. The other half of the equation is the idea of redemption. Is it enough for a black hat to go straight? Do current noble actions outweigh evil committed in the past?
I adore the action hero genre. I also want to write about a world where meaningful consequences exist. Where the shit a hero steps in sticks to his heel. Coleridge fulfills the role of a heroic (or anti-heroic) badass. The consequences are that he has an army-length train of baggage, he's in decline, and the Eternal Footman is holding his coat with a big smile.
4. One of the things that makes Black Mountain an interesting read is that you think it's one subgenre, then it turns into another, and another. On the page it looks seamless, but did you find it a challenge?
The Coleridge series fuses multiple genres because I write for myself as much as I write for the theoretical audience. It's another case of taking something I've done for years (writing short fiction genre hybrids) and applying it to a novel. My protagonist doesn't neatly fit into a checkbox and neither does his story. Translating it from my subconscious feels like peering into a kaleidoscope where the central image is crystal clear and distinct while the peripheral elements are fractured and unstable.
The only rule I've set for myself is that the backbone of the series is crime/mystery. Horror and weirdness lurk at the margins, but no different than the waking world. We are surrounded by unfathomable mysterious, contradictions, and wonders. Coleridge gets to rub up against that stuff too.
5. Oestryke proves to be a formidable antagonist. How did you approach him?
The Croatoan, as some mobsters have dubbed Oestryke, is a bogeyman antagonist. He's at the epicenter of a web of mysteries, conspiracy theories, and legends. Ultimately what's true or apocryphal in regard to the character takes a backseat to the dreadful reputation he enjoys. The less said, the better. He might be listening.
6. When we met last year, I was impressed about your film and book knowledge, even outside the genres you're known for. How has being an avid reader and student of what you've read enhanced your writing?
John D. MacDonald, Robert Parker, Angela Carter, Peter Straub, Kelly Link, Roger Zelazny, and William Goldman made me a better writer. So did Charles Simic, Mark Strand, and Anne Sexton. That's the short list; the off-the-top-of-my-head list.
If you have a writing question, the greats who came before us (and the ones who are still here, toiling, have already answered it. They even wrote it down for you. The trick is knowing what questions are important and to recognize the corresponding answers are merely representative examples.
I'm not trying to reinvent the wheel. I pay attention to what the best among us have done and contribute however I am able.