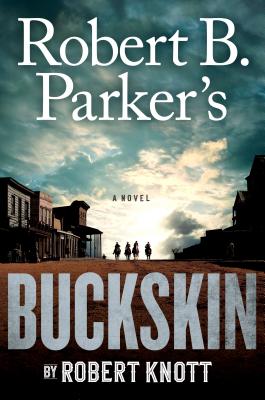 Buckskin is Robert Knott's latest continuation continuation of the saga of Appaloosa Arizona lawmen Hitch and Cole created by Robert B. Parker. As a blizzard blows in, they have to deal with a war between mining interests, a mysterious killer picking off citizens, and a mysterious one, The Kid, riding into town. Humor is added to the story with the women in Hitch and Cole's life. Bob will be here May 8th at 7PM on BookPeople's second floor to discuss and sign Buckskin. He was kind enough to take some early questions from us about the west, western genre, and writing women.
One of the reasons this became one of my favorite in the series is because the plot deals with Appaloosa's politics and commerce, which was at the root of many known gunfights and western wars. What made the politics different in a growing western town like Appaloosa from a city on the east coast at the time?
Keep in mind the edge of the universe in 1847 was basically Saint Louis, Missouri. So westward expansion comprised of easterners. Expats or deserters from the east. Not until later, after the Civil War were people actually born in the west.  Kit Carson was from Saint Louis; Jesse James from Missouri, his family from Kentucky; William Clark Quantrill was from Ohio; Custer was from Ohio; Hickok from Illinois; Billy the Kid was from New York City.  Many westerners were foreigners, like the Irishman and the Frenchman in Buckskin. So these influences are alive and well in the west, and I like to keep them alive in my books. But the difference is, they were gamblers who ventured onto the western frontier seizing opportunity void or and distancing themselves for the Victorian constraints, taxes, and general government rule.
The women in Hitch and Cole's lives prove to be just as formidable as the gunmen they go up against. How do you approach writing the women characters, particularly of this period?
I grew up with strong women in my family. I have always been attracted to strong female characters. Characters with a strong point of view but characters whose thoughts, feelings, and choices are as active and important, and in many cases more important, than their male counterparts.
You have a mysterious killer, The Kid, coming into town to bring even more trouble. How did you come up with him?
Identity, love, and circumstances have always been a theme I like to work with. For the Kid, his life was void of identity and love, and it was circumstances that made him do the things he did, and it was circumstances that made him who he was. I think that telling, is universal. Most trouble and conflict, comes from these basic circumstances.
One of the things this series gets praised for is the dialogue between Hitch and Cole. Is there anything you try to keep in mind when writing for them?
What they are saying and what they aren't saying at the same time gives them a richness. They are not just helping tell the story.  Their dialogue is not just expositional. Don't get me wrong, these are men who say what they mean and mean what they say. But there is also their code within their conversations.  They own the ground they walk on. They do not back up or apologize, only because they—not like politicians or game show hosts—have nothing to apologize for. Hitch and Cole's circumstances in life dealt them cards that embolden nobility.
The two do more detective work on this one. What did you enjoy about that aspect of the book?
I think with all my books they have been more detectives than straight up lawmen. Mainly because it is not always convenient who the antagonists are in these books. It is for H&C to figure that out. Most westerns identify the bad guy, and in the end the bad guy will most often fall. But with these books, Buckskin included, the bad guys are generally good guys gone bad and many times, like with Buckskin we don't know who they are. Which is really what bad guys truly are. Again circumstances. Circumstances are what fills the prisons or the free streets across the globe.
One thing about this series is that you always feel like you've read a traditional western yet it doesn't feel like the same thing. Are there any western cliches you try to avoid?
Thanks Scott, I'm glad you see that, feel that way after, and while you are reading. I try to approach everything I do with the intention that what I am doing is not derivative.  That is of course impossible, but I try. I want the books, Buckskin included, to have an unexpected quality. Like with this one, you mentioned the women. The true central characters in the western are women. Each with their own important story and none of them are whores or farmers daughters, or homemaking homesteaders.  They all have a unique voice and point of view and history and well . . . that is not traditional for the western genre.