C.M. Wendelboe is a western writer, no matter what genre he writes. A veteran of decades of law enforcement in Wyoming and the Dakotas his books show an understanding of the land and its people while delivering a well crafted and highly entertaining tale. In his latest to feature Arn Anderson, a retired Denver cop turned hired consultant for one of the city's news stations, we have Arn also doing detail as as stock detective tracking down sheep rustlers. When he stumbles upon a murder he realizes "The Midnight Shepard" may have witnessed it. We talked to Mr. Wendelboe about Hunting the Saturday Night Strangler, how his writing is tied to his former profession, and the western life.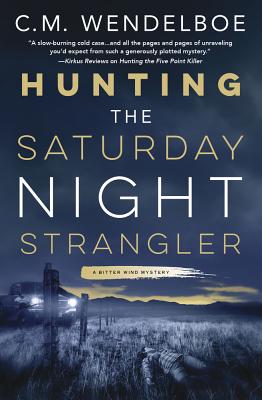 MysteryPeople Scott: Part of the plot deals with the crime of sheep rustling. Is that more common than most people think?
C.M. Wendelboe: Sheep rustling is still a common problem here in the west, as is cattle rustling. With sheep thefts, it is as I describe it in Hunting the Saturday Night Strangler where a trained dog can herd enough sheep to fill a small trailer (usually 25-30 head) and the rustler gone from the pasture within ten minutes.
MPS: What did tying the two mysteries of the killer and the "Midnight Shepard" allow you to do?
CMW: It allowed me to establish a continuity and a sense of purpose to Arn. Since he retired from the Denver Metro Detective Division, he has done what many retired lawmen have done after they hang up their shield—nothing except sit around watching soaps and drinking beer. Suddenly, the consulting gigs that Ana Maria snagged for Arn give him direction once again. He can use what has been his defining trait as an investigator—the ability to look at things from, first a broad perspective, and narrowing his thinking down into a laser-like focus to solve the cases.
MPS: As in the first book, you occasionally have a chapter from the killer's point of view. How difficult is that to do without tipping the reader off?
CMW: I have wanted to use the killer's perspective for some years now. When I was a law officer, I interviewed numerous genuine psychopaths and sociopaths, and each time I came away with the same perspective—they were highly intelligent killers whose intellect eventually were their downfall. To a man (and one woman) I talked with, each thought they were too clever—either because they were inherently intelligent—or that they were too ruthless to drop their guard.
Those chapters were the most difficult in the book because I am unlike the killer, and because it would be so easy to slip up. Of course the last thing I wished to do—aside from the foreshadowing—was give the reader too much information where he or she could solve the identity of the murderer before I was ready to reveal it.
MPS: One thing I like about Arn is that he is an older protagonist. What are some advantages in writing a hero with a few years on him?        
CMW: Arn is a lot like I was in my law enforcement career: the older I became, the more time I took to process things. This wasn't due to a slowing of the mind, but rather an awareness that I missed many clues, many insights as I rushed headlong to find the answers. As an older character, Arn has grown out of the "puppy lawman" phase and thinks things through logically. Even though it takes him more time to do so.
MPS: Like Craig Johnson, you mainly give a sense of place through its people. What did you want to get across about the citizens of Cheyenne?
CMW: This series has a western flavor to it. Apart from Frontier Days ("The Daddy of 'em All" rodeo), people here still live the western lifestyle even though most rarely set a horse or participate in brandings. But there are enough things in the community to point to the western heritage and makeup of the town, from the daily wagon and carriage rides seen on the streets in the summer to the lesser rodeos held nearly year-round to the abundance of large cattle and sheep herds within minutes from city center. A person can still see doors opened for others and women escorted away from curbside and men tipping their hats when introduced to strangers. But strangers not for long as the western hospitality will shine through.
MPS: You also have a new western with Tucker Ashley. What can you tell us about that?
CMW: I developed Tucker Ashley in the true sense of what folks think of the buffalo hunter/part time army scout/gunfighter. But I also wanted to showcase his abilities as a man tracker. Folks often assume that every frontiersman was track-savvy with the abilities to follow a gnat across choppy water. This was not so back in the day. Tales are full of men who misread sign and wound up lost or hundreds of miles off their presumed destination. Competent trackers back then were sought out, as they are today.
MPS: You will be calling in to our Murder In The Afternoon Book Club on November 19th for your discussion of your first Bitter Wind Novel, Hunting The Five Point Killer. Is there anything we can't ask?
CMW: Sky's the limit. Look forward to it.