When Les Edgerton asked if I wanted to read his memoir, Adrenaline Junkie, I jumped at the chance. The several times I've hung out with Les have always been entertaining, partially due to the stories he has told of his outlaw life. I strapped myself in for several wild rides when I opened the book, but even knowing what a master story teller he is, I didn't expect the journey he took me on.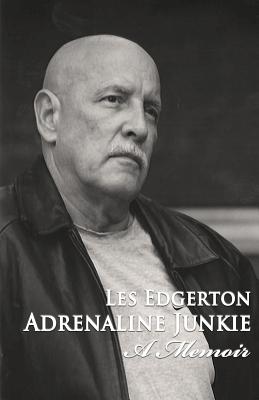 We start out with anecdotes from a Huck Finn-style childhood in postwar Texas. Most of it was under the eye of his grandmother, a tough business woman who had as much affect on him as his parents. One of the first heart breaking moments is when his family has to move away from her.
After some time in the Navy that included a tryst with future international sex goddess Brit Eklund, and college, Les fell into a life of crime with very little need for encouragement. Some involved drugs, but most involved theft. Many of these recollections are funny, like robbing a laundromat, knowing a patrol car is out front, and a shoot out during a heist that has an only-in-real-life twist. Les and his cohorts are far from master criminals. They are mainly guys who don't want to grow up, feeling that luck is in their favor.
Luck finally runs out and Les finds himself in the prison system. He avoids both portraying his incarceration with macho bluster or overselling the horror of the place. He presents it as existing in a society where both routine and adaptation become a daily part of life.
His avoidance of over dramatization is never more apparent than in the chapter he devotes to being raped by a fellow inmate. Just by recalling the the details he remembers and the feelings he had at the time, Les knows this moment is harrowing enough. He perfectly balances the personal and the subjective as we get the feeling that he is still processing the crime after all these years. By avoiding any grand declarations, he neither belittles the violation or other victims of it.
What completely floored me was how the wildest and most adrenaline fueled parts of Les's life came in the 80's as hairdresser who put Warren Beatty's Shampoo character to shame. Learning the trade in prison, Les built a salon and a national name for himself in the business. The money and success bought him a life of sex, drugs, and dangerous romances that almost put him back behind bars. Les allows you  to laugh at many of these harrowing moments and feel happy they didn't happen to you.
This part of the book, of bouncing between successful businessman and self-destructive hedonist, becomes more vivid since it embodies the theme Les seems to be writing toward. If there is an antagonist in Adrenaline Junkie, it is boredom. Les is often searching for peace then screwing  it up. His goal is to find grace, but the temptation of chaos constantly knocks at the door. It also reflects his life as writer, working to find order within those experiences. We root for Les, like we would a fictional character, for him to finally get it right, mainly because this colorful life  eventually becomes exhausting.
For a memoir to work, the writer must not only have a life worth writing about, but he must know how to examine it. Les Edgerton seems to be as astonished as we are sometimes, with bemused asides at many of its darker moments. He makes no excuses. If he holds himself up as anything, it's as a survivor, mainly of himself. He gives us no moral to the story of his life, but shows us how he finally found his grace. As a friend, I'm happy he came out the other side. As a reader, I'm glad he lived to tell the tale.