Erik Storey has done it again:  He's written a book with so much action and excitement that one doesn't need coffee or caffeine to stay alert – this book's got enough adrenaline to make such things unnecessary.
Erik let me interview for his first book, Nothing Short of Dying, which was published on this blog  Along with others I was shocked that his debut novel could be so good, so exciting, so tight.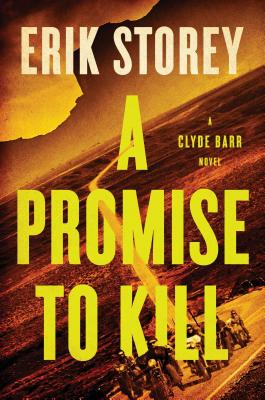 The same is true for his second book about Clyde Barr, A Promise to Kill, who was well developed in the first book and further developed here.  Clyde has a rough back story, which includes time in other countries and three continents helping fight injustice but often getting hurt in the process. All his life Clyde has followed his own code of honor, one that has gotten him hurt often, both physically and emotionally.
That continues to be the case with the new book as Clyde wants to help the residents of a town in the grips of a biker gang.
Erik was kind enough to let me interview him again by email
Scott Butki: How did this story idea develop?
Erik Storey: My editor and I swapped ideas over numerous emails and calls. We eventually came up with the basics for the plot, and with the location I'd already chosen, we thought we had a pretty solid idea for a book. Then, all I had to do was spend months writing the thing.
Scott: For your first book I asked in an interview which came first, characters or plot and you said it was location that came first. Was that also the case for this one?
Erik: Location, or place, came first. The Northern Ute Reservation isn't far from where Clyde was last seen, and I really wanted to set a novel in that area. I grew up near there, and it's a place rarely talked about, even in towns that border it. Like most reservations, it's a foreign land to most folks.
I also wanted to twist the old Western plot line of the wandering-hero-comes-to-town-and-saves-it by having Clyde come into town to help, but realizing the people there are more resilient and tougher than himself. He assists, but in the end it is the people that live there that come out on top.
Scott: You write, at one point, that your protagonist , Clyde Barr, is just looking for a place of peace and quiet. Why is that so hard for him to find?
Erik: Two reasons:
First– even in the wilderness, a place of beauty and relative quiet, Clyde can't suppress the horrid memories and the recurring dreams of his past.
Second– No matter where he goes he encounters people. Despite the Western US's abundance of wilderness areas, they are all full of hikers, campers, and outdoor travelers. And sometimes he doesn't even make it to the mountains before there is someone who is in desperate need of help.
Scott: He seems stuck in a role, namely go to a new place and then become a reluctant hero, in this book's casé helping a town invaded by a biker gang. Why does that say about Barr? Or about the nation?
Erik: Clyde's role is the same as so many others whose stories are told around campfires. He's the Western version of the wandering hero, the knight errant, the Ronin, or globe-trotting adventurers from the 20's and 30's. We love to tell and listen to these stories, because I think we all wish that in times of trouble someone would come in and help us take care of the problem, then leave without asking for anything in return.
Clyde thinks it's important to help those that need it because he knows from personal experience how the underdog feels. He also has seen too many good people go down and promised himself that if he could do something, he would.
Clyde is a man we all wish was around during times of crisis. A man who believes it is his duty to help anyone in need, even without taking any kind of oath. He sees people on an individual level, and wants to make a difference. Because of this driving force, if he is around people he will help. And if he's alone, he will be racked with guilt and depression. It's a no-win situation that he thinks will be solved if he spends more time in a more remote area.
Scott: Will Clyde ever find a place of peace and quiet or would that just result in the series ending?
Erik: He might, but he would be disappointed. It was his goal for years, but it was also an excuse to travel. His real purpose was something else. When you dedicate your life to helping, you might find the lack of opportunities to do so unnerving. I would guess that Clyde would come up with an excuse to go out and look for another adventure.
Scott: How are you similar and different from Clyde? For example, do you, like him, find It hard to back away from a fight and/or injustice?
Erik: Clyde and I have a lot in common. We both share the same discomfort with the modern, technologized world, and are both more comfortable out in the middle of nowhere. We're similar in our hatred of injustice, but that's where we start to differ. I can't just jump into a fight, at least not anymore. Most of us feel that rage when we see something wrong, but we know the repercussions of punching someone in the face. There is a part of us, though, that wish we could and get away with it, and that is why reading about someone like Clyde is so much fun.
As for backing down from a fight, we know that Clyde doesn't—often to his detriment. I was similar back when I was young and dumb. I inadvertently researched quite a few fight scenes in roughneck bars, bunkhouses, logging camps, and parking lots. I've got kids and responsibilities now, and try to avoid all of that as much as possible.
Scott: Did you intentionally choose to not have Clyde have a military or law enforcement background? Why?
Erik: I did it intentionally for a few reasons. The first is simple. I don't have any military or law enforcement background. Because of that, I wouldn't be able to bring enough of the experience and knowledge to the page that I think is important in thrillers to give them a sense of realism. I do have experience in the outdoors, and hunting, so I gave him a background that uses those to enhance the stories.
Secondly, although I love the thriller genre, I think it is over-saturated with heroes who are ex-cops, cops, former Special Forces, and super spies, and I wanted Clyde to be different. He has the prerequisites that you need in these types of books: ability to fight, to shoot, and to survive—but his path to learning them was different and I hope it makes Clyde unique.
Scott: How do you go about researching your books?
Erik: I read every article and non-fiction book about the subjects I want to include in the novel, then try and visit the area I'm writing about as often as possible. Since I set my series close to home, this isn't very hard to do. I'm also very lucky to have worked so many odd jobs and have had so many strange experiences in so many places across the West. I can simply look back on old journal entries to add fodder to the fiction.
Scott : Whats next for Clyde?
Erik: I'm deep into the writing of the third one, and am one of those writers who believe that if you talk about your work in progress the magic will disappear. So you will have to ask me that question again in a few months.