While Cross Her Heart was my first time reading a book written by author Sarah Pinborough, it definitely won't be my last: Her plotting, pace and twists were amazing.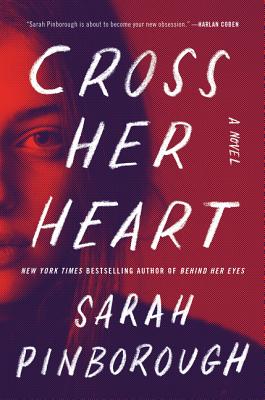 Amid best selling authors like Gillian Flynn working with unreliable narrators I find myself wondering, when reading new books with female protagonists, if THIS is an character I can rely on. And this one avoided the clichés, the predictable twists of many other authors and instead provided a completely original book that will keep you reading all night.
As the Independent wrote, "Once the first reveal hits you in the face, you'll be lucky if you can put the book down to go to bed."
The author, who has also written 20 novels and novellas and written for the BBC,  was nice enough to let me interview her via email.
Scott Butki: How did you come up with this story?
Sarah Pinborough: The central subject matter – which I can't really talk about without giving away the twist! – has always fascinated me, especially the fallout and how people continue to live their lives in the aftermath. In the UK in particular we have a fascination with these cases and I always wanted to write something that explored it. God, this is so hard to answer 😉 But once I had that the core twist in place, the rest of the story came easily.
Scott: Which comes first for you, the plot or the characters?
Sarah: Often I'll start with a situation, or a scene, but the characters are very close behind. It's very symbiotic. But when writing thrillers you need to have the engine of the plot and then house it with characters that people will care about. They don't have to be likeable for me, but they have to like themselves, even if that particular character is an awful human being. Then you have half a chance that the reader will root for them.
Scott: How do you come up with so many disturbing ideas for novels?
Sarah: Ha! Sometimes I think I'd love to write something funny but my brain tends to go to darker places! When I was a kid I never slept because I was always scared of the monsters in the dark, and that endless death-like quality of night, so I figure I'm just destined to think of the terrible things rather than the fun ones. I hope that there are some uplifting moments in my books, though!
Scott: Am I right in guessing that you outline your books? I would think you would have to do in order to plan the twists and keep the pacing at atmosphere going.
Sarah: Yes, I definitely plan. I don't always stick to them but they help point out the problems if nothing else. I always have to have the end solidly in place before I begin and that never changes once it's locked in. If the ending doesn't feel right I can't really start. I do screenwriting as well, and there structure is everything, and that has carried over into my novel writing. I kind of get key beats in place but they often change as ideas or characters change!
Scott: What do you hope readers will take away from your books?
Sarah: Mainly, I hope they just have a few hours entertainment. Entertainment is much under-rated in this difficult world we live in, and I love to get lost in a story, and forget about any problems I have, and hope that my readers have the same experience. But, also, the story stays with them for a while, or makes them think about people in a different way, that's good too.
Scott: You have quite the collection of past works. What prompted you to write modern re-tellings of Snow White, Cinderella and Sleeping Beauty?
Sarah: Well, that was actually my old editor at Gollancz's suggestion! We'd both been watching the first scene of Once Upon a Time and loving it and she asked if I'd ever consider re-telling fairy tales and they'd want to publish them if I did. I didn't think I'd be able to write something like that but then I was thinking about Snow White and wondered what kind of man would fall in love with a dead girl in a glass coffin, and then I had my way in. I'm very proud of that trilogy, and it was fun to be able to write dark, saucy humour.
Scott: I understand Stephen King was one of your earlier writing influences. What's it like to have King, along with Neil Gaiman, Joe Hill, Harlan Coben and others, praising you?
Sarah: Oh my gosh, it's just amazing. There's always lots of fear in this business (I mean, I'm not bigging up writing, it's not brain surgery or saving people from fires etc, but we have fragile egos and always worry) and whenever i have a moment of wondering if I'm making a mess of a story or if it's all going to go wrong I think, 'Well, at least all these people I admire have at some point enjoyed what I've done.' It''s a great way to calm down. 😉 I love all of them, but having grown up in total awe of Stephen King his words almost made me cry!
Scott: What are you working on next?
Ah! Well, I'm describing it as Big Little Lies meets Midnight in the Garden of Good and Evil. It's fun and sexy. It's set in America, and it's lots of terrible, wealthy people doing terrible things to each other … but I love them. Especially the main women characters.  It is a change because it's third person past rather than first person present and it doesn't have past chapters like the last two books but thus far, I'm pretty pleased with it. I think it will be a bit different.