Ruth Ware's fourth book, The Death of Mrs. Westaway, is another one of her great psychological thrillers.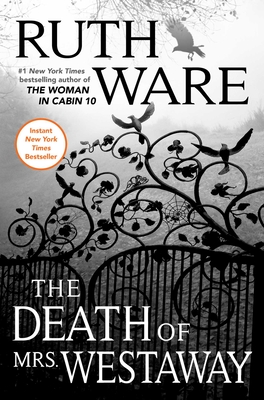 Ware previously wrote three excellent novels: In a Dark, Dark Wood, The Woman in Cabin 10, and The Lying Game. The latter two were on the top ten bestseller lists of The New York Times and the U.K.'s Sunday Times. All three books have been optioned for screen.
This book is good, similar fare full of twists and suspense. The story revolves around Hal, a young tarot card reader, down on her luck. She attends the funeral of a woman who has left her a mysterious inheritance. But it appears Hal was not truly the intended recipient which leads to many complications, plot twists and difficult situations
Ware was nice enough to let me interview her by email. My sister, Ellen Butki, helped me formulate the questions. Thanks to both of you.
Scott Butki: How did this story about this young woman develop?
Ruth Ware: I always find it hard to unpick all the threads that come together to make a story, but I suppose that having written three books about women who found themselves in a life changing situation mostly through no fault of their own, I wanted to write something about a character who brings the action down on themselves – someone who sets out to commit a crime. But I found it impossible to write Hal as a true anti-hero. She makes some questionable decisions, but I liked her more and more as the book went on. 
SB: What do you think of those who compare you to Agatha Christie, as both of you not only are famous for twists but also for putting characters into situations that can lead to paranoia and violence?
RW: I take it as a huge compliment! I'm a big fan of Christie and I think her plots are pretty much second to none – so many of the features we take for granted about the genre today, she more or less developed. I would be very happy if I wrote something even a quarter as twisty and genre-defining as And Then There Were None.
SB: In your writing process, which do you see first: the overview (characters/setting/plot), the ending, or the major twist?  Do you add more twists while editing?
RW: It's really hard to pick apart because they all come together more or less at the time, and different books develop differently. With Cabin 10 I had the ship first of all – the first image that came to me was of a woman waking up in the middle of the night in a locked cabin and hearing a splash. But who that woman was and what happened next developed at the same time, because the one influenced the other.
In a Dark, Dark Wood the physical entity of the glass house only came to me quite late on, about a quarter of the way into the book – but again the motives of the protagonists and their particular characters developed hand in hand. Character is plot, and plot is character. What we do and why is shaped by who we are – and vice versa. The twists are a bit separate – I have to figure those out as I go. Sometimes the pieces don't fall into place until really quite late.
SB: Identity seems to be a common theme in your books. Is that intentional? Do you want readers to take away something about identity or some other lesson while reading your books?
RW: Do you know, I had never really thought about this before, but you are right! I am not sure why that is – except that I'm endlessly fascinated by people and the versions of themselves that they show to the world versus the people they are inside. I guess it's that fascination showing. I don't really write with an intentional lesson or message in mind – I would never presume to dictate to my readers what they should or shouldn't find in my books, though of course there are always subjects I'm interested in, and I suppose I do often hope to make people think and question some of their assumptions.
SB: Do you believe that deeply buried secrets will/must always be revealed (in books and/or in life)? Where does this belief stem from?
RW: Actually, I am a firm believer in healthy repression 😉 Of course in books secrets usually come out – it's back to that Chekovian idea of a gun above the mantelpiece. If you reveal that a character has a deep dark secret, there's no point in putting it in the plot unless it's going to come out at some point, otherwise you may as well not bring it up at all. In real life, though, we all have secrets – large and small – and bringing things out into the open isn't always the right course of action. I think my books often show the enormous damage that can be done when secrets surface.
SB: What are you working on next?
RW: Another book of course! It's a bit too early to talk about it though – I don't want to jinx myself.