Rob Hart has put his hero, unlicensed private detective Ash McKenna, through the wringer both physically and emotionally. He hasn't even let him stay put in one city —  he has had to leave New York, Portland, a commune in Georgia, and then Prague in each book. In Potter's Field, Ash returns to his Big Apple home, hoping to get his life together and find peace, but not until his former boss drag queen crime boss.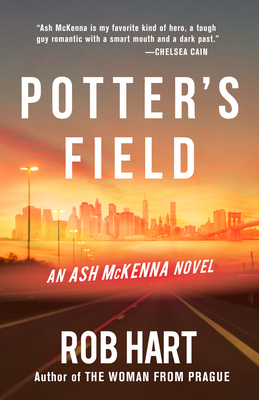 MysteryPeople Scott: What made you want to have Ash in only five books?
Rob Hart: This may sound ridiculous but Charlie Huston's Joe Pitt series was five books, and I got it in my head that five was a good number. But as I was laying out the arc of Ash's story, it made a lot of sense—three wasn't enough, five was just right. And as much as I love writing him I needed to have an endpoint. The series is about a kid growing up and finding his moral compass, and it doesn't work if he never finds it.
MPS: This is the final book, so, did Potter's Field end up how you thought it would or did it change as you developed the character for the series?
RH: I was actually pretty locked-in early on, in that I knew he would come back to New York in the final book. But I didn't realize how much of the fifth book would end up on Staten Island—nearly the entire thing, with a brief jaunt into Manhattan. I live on Staten Island and writing Potter's Field made me realize how much I appreciate it, and this felt like I was doubling down on that. Especially since Staten Island hasn't always had the greatest portrayals in arts and media. It's so much more than a giant garbage dump and loud Italians.
MPS: You deal with Staten Island's drug scene in this book, what did you want to convey about that world?
RH: The problem is much bigger than the individual user. If anything, I think users are unfairly demonized. The opioid crisis can be traced back to pharmaceutical companies that knew opioids were incredibly addictive, but did their best to hide that so they could maximize profits. And now a whole generation of people are hooked on heroin because of a bunch of rich craven assholes. I think there needs to be a lot more thought and compassion for what this crisis looks like on the ground level.
MPS: Do you feel New York has changed since Ash left or it is more seen through the eyes of someone who has changed?
RH: It has and it hasn't. New York is a city of constant change—as much as the people who live here want it to remain the same, that's not the nature of it. You just have to hold on and go along with it. If anything, that's the feeling I wanted to get at. In New Yorked, the first book, Ash was one of those people who rages against every old business that closes, so by the fifth book, I wanted him to find that place of serenity, accepting the things he cannot change.
MPS: Ash runs into a couple other detectives as he searches for someone to apprentice with. Were you hinting at any new projects down the road with him?
RH: My publisher keeps reminding me that Dennis Lehane took a ten-year break on the Kenzie and Gennaro books. I am not opposed to writing more Ash, but definitely not for the foreseeable future. I needed those grown-up, real-deal private detectives to ground Ash's journey and give him a reference point. The series, as a whole, is the origin story of a private detective, but he's never even met one before.
MPS: How did it feel to finish Ash's story, at least for now?
RH: Bittersweet. Ash's voice is like an old pair of sneakers: comfortable to slip on, fits great, and you can walk for miles. But wear them for too long and they'll break down and fall apart. I'm happy to be moving on to new things, but I'll keep the shoes in the closet, just in case.