For March, our Murder In The Afternoon book club will celebrate the month that marks the hundredth year of hard boiled writer Mickey Spillane's birth. With the creation of tough guy detective Mike Hammer, Spillane launched the paperback boom that gave us a new generation of great genre writers. We will be discussing his fourth Hammer book, One Lonely Night.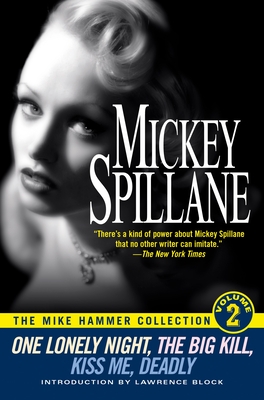 The story begins with Mike walking along the bridge on a rainy night after a judge has read him the riot act about his tactics. A woman runs toward him chased by a gunman. He shoots the man down, but frightens the woman so much, she jumps off the bridge. Out of a mix of guilt and blood lust, he tracks down those responsible in a back alley trail of thus, politicians, and (this being the fifties) communists.
There will be a lot to talk about with One Lonely Night – how Spillane reacted to his critics, Hammer's relationship with violence, and genre fiction in the age of The Red Scare. We will also be showing a documentary — Mike Hammer's Mickey Spillane, directed by friend and fellow writer Max Allan Collins featuring authors like Lawrence Block, Sara Paretsky, and Walter Mosley. We will be meeting in BookPeople's Third Floor at 1PM, Monday the 19th. Mickey Spillane's Mike Hammer Volume 2 that contains One Lonely Night is 10% off to those who plan to attend.
For more Spillane, the Hard Word Book Club will be discussing The Girl Hunters on the night of March  28th at 7PM, along with viewing the film version starring Spillane as Mike Hammer.