Les Edgerton's crime novels careen through humor, heartbreak, and harrowing situations with a voice that seems often worn and and lived in. It comes from the fact he's lived a lot of what he writes about. When his memoir Adrenaline Junkie came out last year, many of us couldn't wait to read it, wanting to know what he hasn't shared. It turns out, there was a lot. His life as outlaw, convict, hairdresser, husband to a few wives, and writer has given him a lot to draw from. I was lucky enough to interview Les about Adrenaline Junkie and get a few stories from him. Warning, Les isn't a politically correct writer and neither is this interview.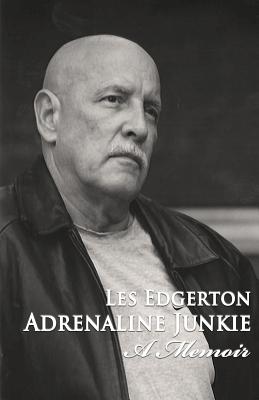 MysteryPeople Scott: You're someone who always has lived an interesting life and you continue to do so. What made you think this was the time to write your memoir?
Les Edgerton: Actually, I wrote it several years ago, Scott. I was just waiting for the right publisher. I've had several publishers who wanted to take it, but I wanted one who could get it reviewed in the right places and get it placed on bookshelves nationally.
MPS: You've used a lot of your experiences in your fiction. Did you notice anything changing in the tone or style as presenting them as actual personal occurrences?
LE: Not at all. I use my same writer's voice on everything I write, be it various fiction genres or nonfiction. That was the primary concept I voiced in my first writer's craft book, Finding Your Voice, and I believe that today as much as I did when I wrote that book years ago.
MPS: I've told some people that many of the more dangerous and exciting times you had weren't in prison or as a criminal, but as a hair dresser. What was it it about that life style that put you on the edge?
LE: Yep. You're exactly right. I was single much of the time I did hair and that means I was getting into lots of women's knickers. Here's a true story that illustrates the times. I was working at a salon named Snobs in New Orleans when the movie Shampoo came out one weekend. When I walked into the salon on Monday, there were all these guys in the lobby. I asked the owner, Tony Jones, what the heck was going on, and he laughed and said these guys had seen Shampoo and for the first time realized that not all hairstylists were gay—they were here to check out where their wives and girlfriends were getting their hair done. And, they were right to be suspicious—we were nailing lots and lots of women who came in to get their hair done. In fact, Warren Beatty was really mild in the movie. We daily did a lot more than he did in the movie. He was kind of a piker. There's something kind of magical that happens when you lay a woman back into a shampoo bowl and begin shampooing her hair—it just creates a sexual bond immediately. I've had hundreds and hundreds of sexual experiences with women whose hair I did.  Their husbands and boyfriends were right to check us out…
Here's a fairly typical experience. I had just opened up a salon in a small Indiana town and was cutting the mayor's wife's hair. I was just about finished and we were just talking about everyday things, when out of the blue, she reached over and grabbed my johnson. So we had sex and then she started to leave and I asked her if she hadn't forgotten something. What? she said, and I said, you forgot to pay. You want me to pay after what we did? she said. Well, yeah, I said. You don't want me to think of you as a prostitute, do you? She saw I was right so she paid me. She didn't tip though…
Another time, I had a shop in South Bend, Indiana, and was going to college at IUSB. One day, I'm cutting this woman's hair and one of my friends, Bob Wensits, was sitting on a waiting couch when the phone rang. It was a man with a pronounced southern accent who began accusing me of screwing his wife. The truth is, I was doing exactly that. I began saying things like, I think you've got the wrong number, sir, and I'd never do anything like that—lame-o stuff like that—and finally, he said, I'm coming over there and I'm bringing my gun. I hung up and immediately swung the lady in the chair so she was between me and the front window and hurried up, finished her cut, hustled her out the door and locked it. The instant I locked it, Bob fell off the couch, laughing so hard he was crying and then revealed to me the caller was one of our friends, Fred Sulok. Bob said, I don't believe what you did—you got that woman between you and the window. Well, I said, do I look like I've got a low I.Q. to you?
There were many, many experiences like that… I've been shot at and had women try to disembowel me with knives and lots of things like that…
MPS: You devote an entire chapter to the rape you experienced in prison. It feels raw and true, because it came across as you were still processing it. I'm assuming it was the toughest thing to write, so how did you approach it going in?
LE: Well, it was raw and true, so there's that. I just approached writing it like I do everything else. Just tell it the way it happened. Any writer worth his salt has that "piece of ice" in their heart that Graham Greene talked about and I'm no exception. I can compartmentalize anything that happens to me and separate out my reporting from the emotion of the experience itself. I wouldn't be much of a writer if I wasn't capable of doing that.
I guess I could wear a "MeToo" button, couldn't I?
MPS: The thing I admired most about you in reading Adrenaline Junkie is that you almost always had a close friend around, whether they helped get you into trouble or out of it. Did you learn more or view them any differently when they became part of your writing?
LE: Not sure what you're asking here, Scott. Do you mean do I view my friends differently when they become part of my writing? If so, the answer is no. All of the people in my life fit what one of my ex-wives said to me after we divorced. She said, you just married me for material, didn't you? To which I replied, yes. And, that's the way I've always viewed anyone I come into contact with. As material. It's just what writers do.
MPS: I've often heard you say the two things you love the most are writing and talking about writing. What is the most important thing writing has given you?
LE: My life. I wouldn't care to live a life without writing. What would I do? Mow my lawn and sit around watching TV? No thanks… Have you watched TV lately? Have you ever mowed a stupid lawn? There's just never been anything else I've done that compares to writing. Nothing.