Here's our Q&A with Layton Author, author of our Pick Of The Month, Written in Blood
MysteryPeople Scott: What I really loved about Written In Blood was how Preach's personal life dovetailed perfectly with the mystery story. Was there any kind of advance planning in the process to pull this off?
Layton Green: My first editor told me to "always make it personal." Since then, I've tried to heed that advice and blend the private lives of my protagonists with the crime, in some way. I agree that when there is a personal stake in the outcome above and beyond the job, the tension is usually heightened.
MPS: Many writers say they avoid dealing with religion and faith, yet some of the best crime novels and television episodes deal with it. What did you want to explore with that part of Preach's struggle?
LG: To me, no matter the genre, the best novels deal with the tough questions in life, as well as the quotidian details. It doesn't have to be overt, but as a reader, I want to know what my fictional heroes think about life and death, and good versus evil, and the meaning of it all (as well as their favorite drink). I decided to use Preach's past lives as a way to explore those topics.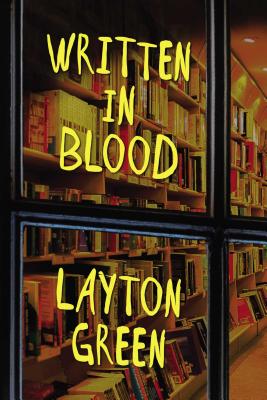 MPS: Kirby is a wonderful supporting character. Is there a way he came into being with the traits he has?
LG: Thanks! Hmm, you know, I don't actually know from what void he sprang. I was just trying to make him real, and a reflection of his circumstances and his society. I liked him, too.
MPS: There are literary references in the story, many serving as clues. Was there anything you had to keep in mind when using them?
LG: I definitely did my research on this one, as I didn't want to misstep and use a false reference.
I reread all the books and hit the commentaries, as well as trying to explore them in a novel manner. It was really fun to tie them all together, and I enjoyed the research into the "lineage" of detective fiction. Oh, and I consulted an intellectual property law professor. He says I'm good to go.
MPS: What did the setting of Creekville, North Carolina provide for you?
LG: The whole enchilada! The setting is loosely based on a real town in the Triangle that has many similarities to the one in the book. I fictionalized it so I could take liberties as needed, but the general vibe of the town, the extreme liberalism and quirky nature, are all there. I was fascinated to see the interplay between the progressive culture and the conservative bastions of the Old South. After a few weeks, I knew I wanted to write about that clash.
MPS: Some of the suspects are writers and not very likable. Were you making any comment on your profession?
LG: Not consciously. Just telling the truth, or part of it. There are many sides to a truth . . . and we crime writers tend to focus on the dark ones.