If not integral to classic crime fiction, jazz at least has a strong relationship to the genre. Whether it be a mob-owned club or evidence of how hip the detective is, jazz is the primary background music to the writing. My own love of the music can be traced to my love of jazz. Because of this, I was intrigued about Stark House reprinting Angel's Flight, a noir novel that covers the thirty years when jazz was the music of America.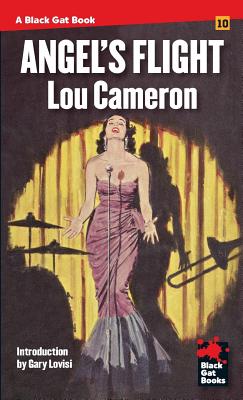 The book follows the feud between two musicians. Ben Harper plays bass for Daddy Holloway and his Hot Babies, an integrated band led by a genius behind the piano. He butts heads with Johnny Angel, an ambitious kid living with their gay drummer for lessons. Angel finagles his way into the band and through stealing the daughter of Big Daddy's heart, steals the band. Ben fights him as they both rise in the industry, until World War Two takes him overseas.
After the war things escalate. Ben finds himself in Hollywood helping score a film so Angel doesn't take the work away from a friend. This leads to his discovering a red-headed beauty with a killer voice, causing yet another battle between him and Johnny. After a nightmare USO tour in Korea, Ben gets leverage on a "dirty" record producer who gypped him and starts his own company that competes with a larger one owned by Johnny Angel. This leads to  final fight involving a senate investigation and murder, coming full circle with poetic noir irony.
Lou Cameron tells the story with the pace and style of a good Benny Goodman number. It covers three decades non-stop under three hundred pages. It is dense and tight. The jazz lingo gives it style, a subtle dark romanticism circles around the story like a breezy horn section, with a cutting cynicism serving as percussion. As it keeps moving, Cameron's style becomes a major part of the story.
Cameron fills the tale in with detail. We get the drudgery of life on the road, the business of making dirty records and the dirtier business of payola that leads Ben to go up against the the mob and Angel. He also explores the race and sexuality in the scene as well as is other denizens. His definition of a hipster is worth the price alone.
Angel's Flight gives us a rough and tumble tour through the jazz subculture at it's peak, carrying the fate of two men, one foolish enough to think he can control it. Cameron plays it with style but with little nostalgia. He gives us an an art and business that can take the lives that exist in it and even worse, their souls.