C.M. Wendelboe's three novels featuring Lakota FBI agent Manny Tanno has made him a fresh voice in crime fiction. With Hunting The Five Point Killer, he introduces us to Arn Anderson, a former Denver police detective, whose job as consultant for a
local television station takes him to his childhood home in Cheyenne, dealing with his past as well as the murders of several lawmen. I caught up with Mr. Wendelboe to talk about character, place, and his books.

MysteryPeople Scott Montgomery: Like Manny in Death Along The Spirit Road, you have Arn return to his boyhood home. What draws you as a writer for this situation?

C.M. Wendelboe: As Thomas Wolfe wrote, "You can't go back home to your family, your childhood…back home to the escapes of time and memory." Manny couldn't force himself to go back home, and neither could Arn, though they both did, both returning to their boyhood homes by circumstances they fought to control. But in the end, circumstances neither resisted as much as they could have. As if each man secretly wished to return to their past. We all would like to go back home again, even if we publicly deny it. We'd all like that second chance, that opportunity to right wrongs, to take that fork in the road we should have taken back in the day. But which is too late for us now.

So Arn, like Manny, does the best he can in the present to do those things that he ought to have done back in the day. I like the idea of my characters confronting their own shortcomings, reflecting on how things might have turned out differently if only they had taken the other fork in the road. But they go on with their lives, knowing they can do little about those decisions that have ultimately forged them into who they are as people. Maybe I'm just suspicious of seemingly-perfect people.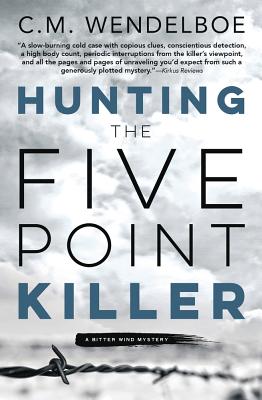 MPS: What did using Cheyenne Wyoming as a location provide for you?

CMW: I wanted to set my contemporary series in a town brimming with western heritage, and Cheyenne definitely fills that requirement. Folks here represent what people think of the West:  still opening doors for others, men still tipping their hat to ladies, drivers pulling over to help a motorist stranded along the road. Cheyenne's western history dates back to regional Army forts housing soldiers garrisoned to fight Indians, and the Union Pacific making Cheyenne "Hell on Wheels", and road agents preying on hapless victims. And, as often as not, doing the dangle of death from a stout piece of hemp courtesy of a vigilance committee. But it's also a place where many men and women go armed, and are prepared to use their weapon when they perceive a threat. Arn has to go about his investigations knowing at any time he may encounter someone armed who takes offence to sticking his nose into their business. So Cheyenne won out over many other town in the Rocky Mountain region.
MPS: While a decent guy, Arn is pretty damaged. What does a wounded
character allow you to do?

CMW: Hollywood is populated with beautiful people: they live in lovely mansions and drive exotic cars and verily shine with charm when out in public. People are drawn to that. But not as drawn to them as when we learn their perfect lives aren't as wonderful as we thought. When we discover their flaws and their weaknesses, suddenly they are more like us. Human. Arn is a wounded character, which naturally makes him more interesting. We learn that his perfect life as a Denver Homicide Detective is marred by the premature death of his wife. And when Arn moves back to Cheyenne to take a consulting job with the local television station, we discover that the ghosts of his abusive father's past and an apathetic mother long dead still haunts him. He's just more interesting with these memories. More interesting with flaws and a painful past.

MPS: Several moments you write from the killer's perspective. How did you approach those scenes?

CMW: I was a lawman for nearly forty years, and worked the street my entire career. This allowed me to come into direct contact with all manner of criminal. Occasionally, I would interview post-crime suspects that were genuinely sorry for what they had done. Most, though—including most murderers—felt no remorse, and deflected blame for what they had done upon their victim/s. Those interviews helped shape what direction I intended taking my story.

Rarely have I read tales spoken from a killer's viewpoint, and had no guidance on how to go about it. So, used my knowledge of murderers to get into that role. When I needed to write those passages from the murderers' point of view, it would take me some preparation to become the suspect's voice. I would think back to this interview I had conducted, or that suspect telling me things about his crimes, and that's when the words would begin to flow. These passages from the killer's POV are short—two pages at the most and many shorter—because it was difficult for me to continue thinking like a sociopath or a psychotic. Perhaps I'll get the courage one day to write an entire novel from such a point of view.

MPS: I've noticed all the Wyoming crime writers populate their books with characters that have some form of a sense of humor. Why do you think that's an inherent trait in the people who live there?

CMW: When I was a just a young policeman working an off-reservation town in South Dakota, I was assigned with other local officers to respond to Custer, South Dakota, where the town had been taken over by Indian militants. As I sat huddled with other officers from around the state nervously waiting to advance on the rioters, an older deputy sheriff beside me began cracking jokes. I thought he was nuts to be joking at such a serious time. But soon I and those within earshot of the man began to relax, began feeling as if we would be able to perform our job there. The taut tension we'd experienced subsided.

As I write about lawmen—both active duty and retired—I know that an integral part of their world is humor. Much has been written about a policeman's graveside humor and how disrespectful it is. Not so. Law officers frequently find things amusing at the worst possible times because that's how they cope with the day-to-day nastiness they have to work around. Call it a defense mechanism for the mind. No one wants to be high on the roller coaster all day. Everyone wants to come down for a breather before the next hill is climbed.

MPS: You have two period books coming out soon, Backed To The Wall and Marshall and the Moonshiner. What can you tell us about those?

CMW: Backed to the Wall was fun to write. I've been an avid reader of period westerns since I was a kid, and wrote and published my first short stories in that genre. Writing book-length tales allows me to develop my character in ways that the shorts didn't. One of those was man tracking. We're led to believe that all western men were competent trackers. But that wasn't the case. Like today, those folks who were track-savvy back in the "Old West" were much sought after. There are countless times where tracks were lost, false trails followed, bad men and renegade Indians alike allowed to make their getaway because those following had no track awareness. Not so my man Tucker Ashley. His claim to fame is that he's an astute tracker, working for the Army when he's not battling lice in a local lockup.

The story opens with Tucker fighting a hangover in such a jail when he learns a Lakota raiding party has abducted his love interest from her mercantile while Tucker was locked up. He makes his escape, and is hot after the Indians when an old enemy—Deputy Marshal Aurand Forrester—gets on his trail. Between Aurand's fast gun and his gnarly posse and the Indians trying to kill him to get Tucker off their track, it is doubtful if he'll survive either one in his pursuit of his woman.

Marshal and the Moonshiner is set during the Great Depression. It begins when U. S. Marshal Nelson Lane is called to the Wind River Indian Reservation in western Wyoming to assist local tribal police with a homicide. When Nelson arrives, he learns two neighboring ranchers had got into an altercation. One shot the other to death before fleeing to relatives in Oklahoma.

This was a time when the Bureau of Investigation (forerunner to the FBI) was in its infancy, and could spare no one to investigate crimes out west. Nelson must travel to Oklahoma, far out of his element in a large town. The local sheriff assigns Nelson his junior deputy, a Cheyenne Indian woman names Maris Red Hat, as Nelson's liaison and partner in search of the fugitive. Soon, they're caught up in local corruption in their pursuit of the murderer from Wyoming. If Nelson can keep himself and Maris from being killed, he might just find the murderer and bring him back to Wyoming for justice.