William Ard is an author mainly known to only the most avid genre followers. Dead from cancer by age thirty-seven in 1961, he wrote over forty books in the last ten years of his life. The fact that many of them were under pen names doomed him to further obscurity. Recently Stark House reprinted one of them, You'll Get Yours in the Black Gat line. It may have originally been under the name Thomas Wills, but the story is pure Ard.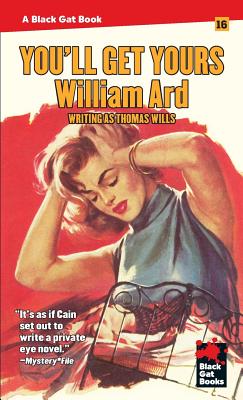 It was the first of two books he wrote about New York private eye, Barney Glines. A publicity agent hires Barney to be the go between to return some stolen jewels from his clients, starlet Kyle Shannon. Barney soon discovers that this is the cover for a blackmail plot and as he gets in deeper he is framed for the murder of a burlesque dancer. There are few people he can trust , including the the ones who hired him.
Barney Glines is very much a detective in the Ard vein. Unlike many writers chasing the popularity of Mike Hammer in the fifties, Ard, like some of his contemporaries, Thomas B Dewey and Ross MacDonald, created a sensitive and more socially aware detective. He could still handle his own in the streets, but he carried sympathy for many he met on them. This liberal empathy allowed the author to tap into the melancholy tone of the genre at a perfect pitch.
His view of women is also more sympathetic to the trials and tribulations of women. Much of what drives the plot is Barney's love for Kyle and the need to rescue her from the men exploiting her. He also shows a great depth of understanding for the life of the murdered burlesque lady as well. This aspect of his work allows for a heart-breaker of an ending.
You'll Get Yours is a great way to discover William Ard. I hope Stark House finds a way to publish the other Barney Glines book, Mine To Avenge. Both author and detective prove you can be hard boiled and have heart.